Category: Black & White Photography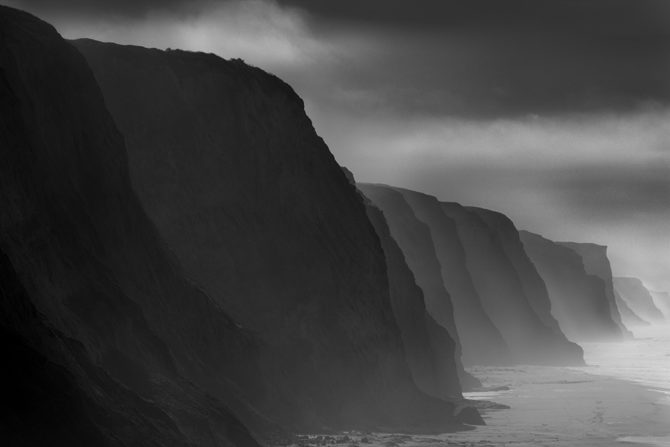 Diminishing Cliffs
I will giving my presentation "Why Black and White" to the Broomfield Photo Club on Tuesday, April 26th at 6:30 pm.
If you're in the area, I'd love to see you. And if you do attend and we've communicated before, please do come up and say hello! At my last Denver presentation there were two internet friends in the audience whom I did not get to meet and I felt bad about that.
What's the presentation about? Well, it starts off talking about "Why Black and White" and I believe that I make a compelling case that b&w is good for any type of image or genre of photography. But what the presentation is really about, is finding your own Vision, following your Passion, forgetting about what others are doing and creating images that you love.
The presentation is 1 hour and 15 minutes long and as is my tradition, three prints will be given away at the end of the presentation.
Here are the vitals:
Who: The Broomfield Photo Club

What: Why Black and White

When: Tuesday, April 26, 2016

Time: 6:30 pm

Where: Broomfield Community Center, 280 Spader Way, Broomfield, CO 80020
Thanks all, I do love giving this presentation because I truly believe in the message I am delivering!
I am lucky to love what I do and love what I create.
Cole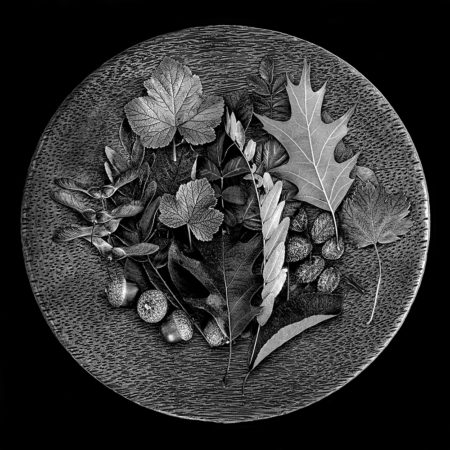 (Plate of Leaves)
It was a rainy day up in the Colorado mountains and I decided to shoot indoors. I collected some seeds and leaves and placed them on this great wooden plate that I had purchased for such an occasion. I was shooting on the kitchen table using available light, which was the kitchen ceiling lamp.
So how did the image look to my camera?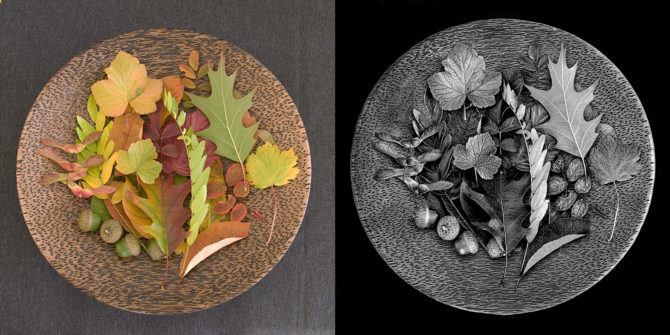 (click on the image to enlarge and compare)
I think the color image is rather boring and unremarkable. At first glance and without Vision, you might be tempted to throw it out. But I had a Vision of what it was to be.
A lot of this image's "look" was obtained in the black and white conversion process, where I play with the color sliders to bring out or hide details. Click on the image above and look at the leaf just left of center, see how the veins have been brought out? The green slider had a lot of affect on this image.
For me, the step of converting the image to black and white is a critical part of fulfilling my Vision. That's why I never accept the default b&w conversion or simply desaturate the image. I know what I want the image to look like, Photoshop does not.
Then after I had done as much as I could with the b&w conversion, I dodged and burned to bring out the contrast and highlights. I worked with a very small brush and worked every leaf, seed and nut individually. Sometimes it's tempting to use a global tool such as the contrast adjuster, but that affects everything in the image equally and it rarely can produce a look equal to good dodging and burning.
The challenge was to take that boring color image and transform it into the black and white image that's in my head.
For me, a black and white image is so much more interesting than a color one!
Cole
P.S. There's something else interesting about the before and after image…it's the sharpness. Did you notice that the b&w version seems so much sharper than the color image? It's what I call "apparent sharpness" and it comes from contrast. This image has not been sharpened.
Can you please spend 3 minutes to help me improve my Google Rankings? If you do, I'll be your friend! (smile)
1. Log into Google+
2. Click on this link and it will open a list of my different web pages.
https://www.google.com/search?sourceid=chrome&ie=UTF-8&q=site%3Acolethompsonphotography.com
3. Here is what each item on the list will look like:
Portrait of Breast Cancer – Cole Thompson Photography
https://colethompsonphotography.com/portfolios/series/linnie-a-portrait-of-breast-cancer/
+1
In July of 2008 I had the privilege of photographing Linnie, she had a rare breast cancer,
endured a mastectomy, was undergoing chemotherapy and feared she …
4. Hover over the web address (green above) and you'll see a faint +1 appear on the end of the address (red above). Please click that +1 for a bunch of entries! It took me less than 3 minutes to do five pages worth of clicking.
5. You cannot imagine how much that will help my search rankings and how grateful I'd be.
6. I will now be your friend.
Thanks.
Cole
P.S. If you know me, you know that I'd be your friend anyway!
Why Black and White?
If you're in the Denver area on Thursday, September 8th, I'd like to invite you to join the SW Photo Club of Denver as I attempt to convert all color photographers to Black and White!
Thursday, September 8th at 6:30 pm.
Abiding Hope Lutheran Church
6337 S. Robb Street
Littleton, CO 80127
In addition to speaking on "Why Black and White" I'll also be discussing my workflow, my four essential tools, working on "cohesive bodies of work" and my favorite topic: Vision.
I'm looking forward to seeing you!
Cole