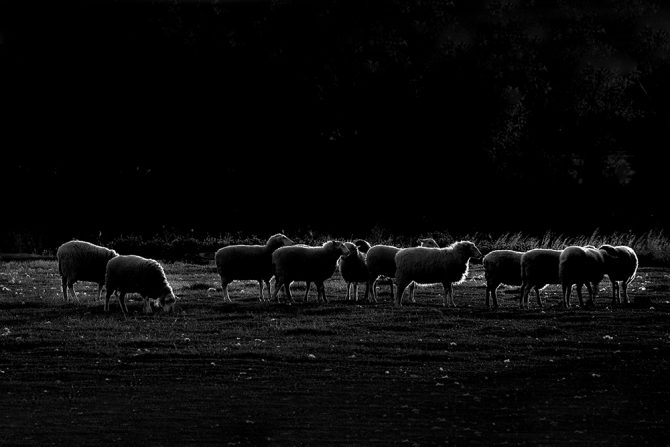 Dark Sheep
Even though I've been photographing in Black and White since 1968, I consider the years from 2004 to present to be my important ones. It was during these years that I found my Vision and pursued my Passion.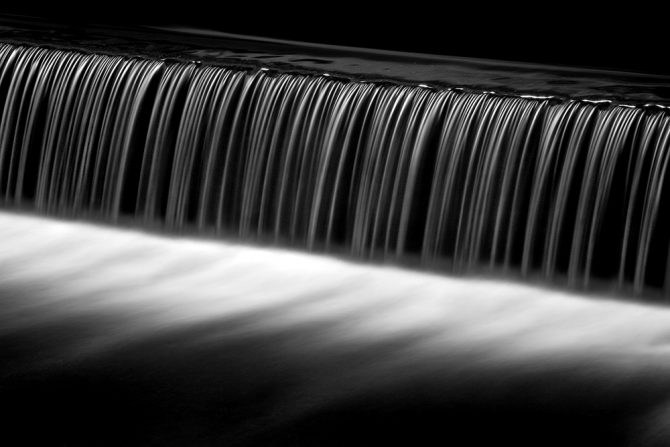 Poudre River Spillway
During the last 15 years my work has changed in many ways and I'd like to illustrate one of them: my work has become more simple.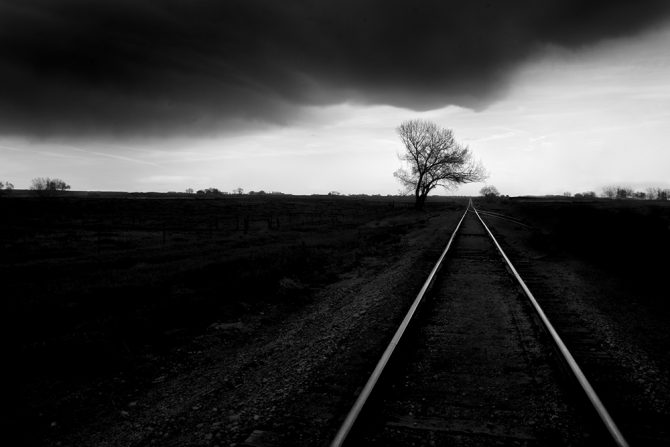 Railroad Tracks
I've always loved simple images but it wasn't until the last few years that I consistently started to create them.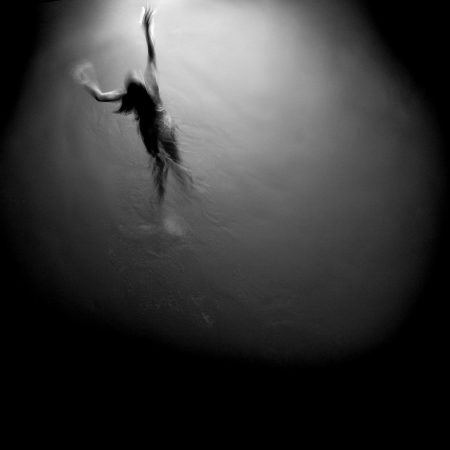 Swimming Towards the Light
It wasn't really a conscious decision to simplify my images, it just "sorta" happened as a by-product of another decision.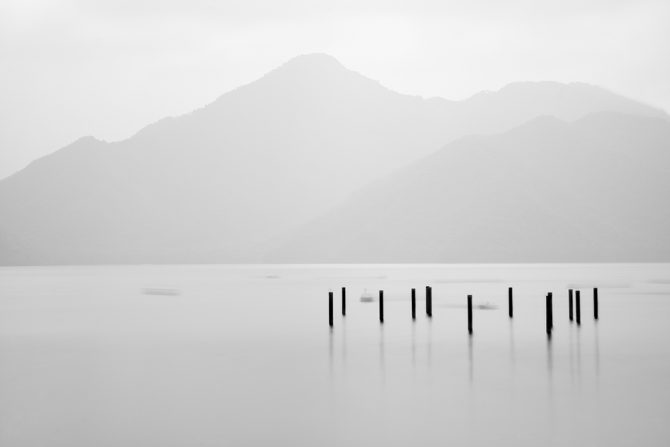 Chuzenji-ko
Several years ago I decided to simplify my equipment and processes.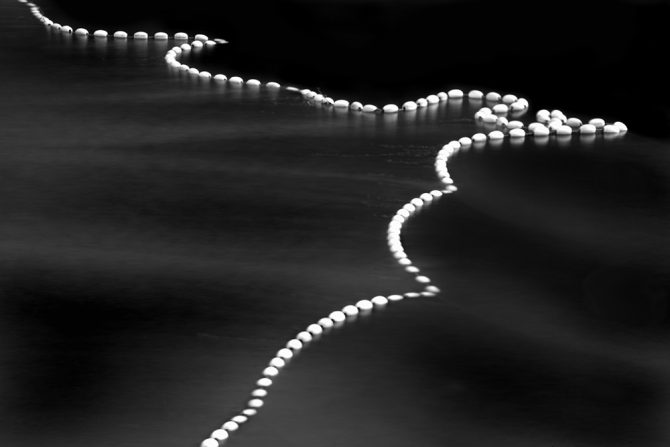 String of Pearls
I was spending too much time tinkering, adjusting and fixing things and I wanted to instead focus on what was important. I think that this philosophy of simplicity spilled over into my images.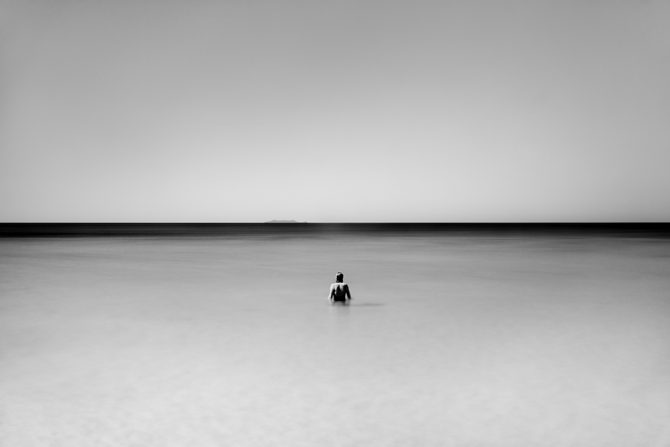 Lone Man No. 35
So what do I mean by a simple image?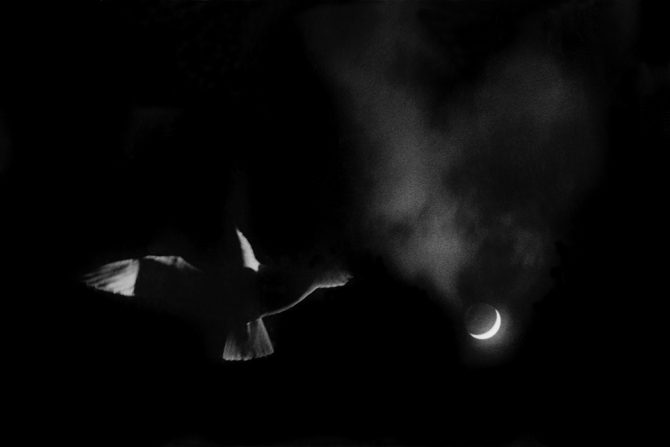 Gull and Moon
For me, it's an image with fewer visual elements and less detail.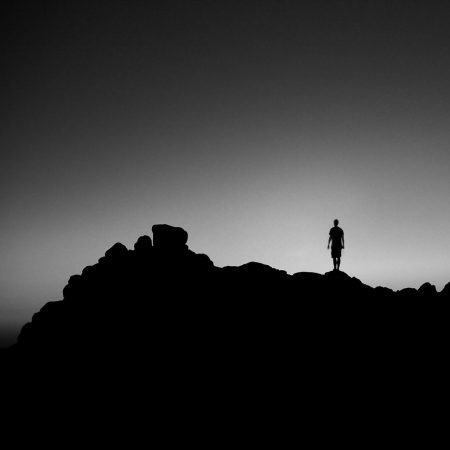 Lone Man No. 7
Like in the "Lone Man" image above, there are only three elements and very little detail.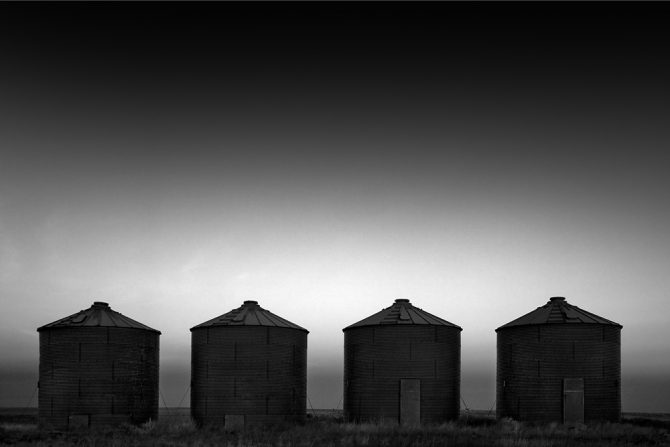 Four Silos
The fewer the elements and the less detail, the simpler the image is.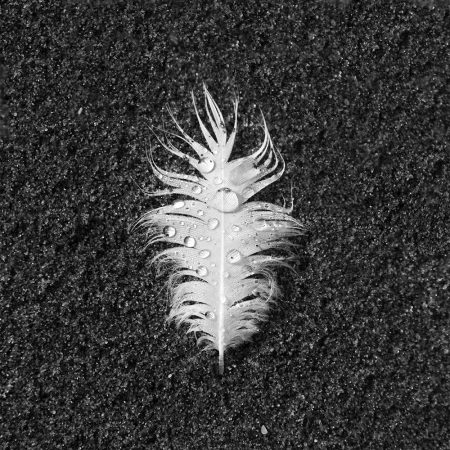 Dew on Feather
Even though this image has a lot of detail, I have darkened the sand detail so that it doesn't compete with the feather, but rather makes it the focal point.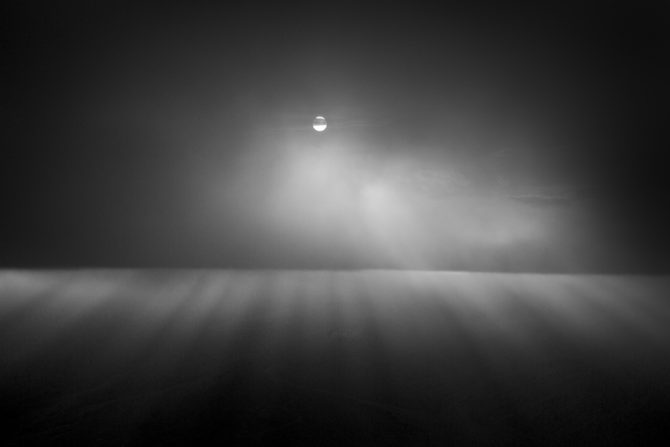 Beneath the Clouds
Simple images are, well, simple.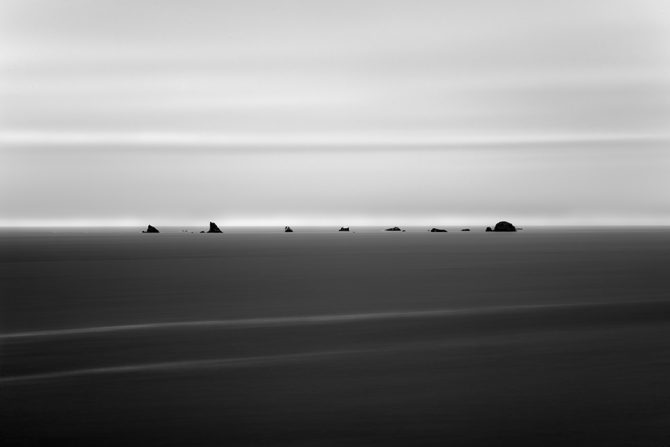 Monolith No. 27
And I generally don't find them this way, I create them this way.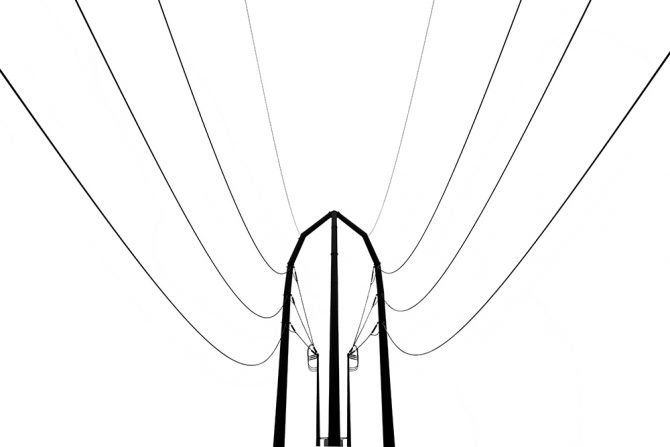 Minneapolis Power Lines
Sometimes "simple" comes from the composition: what you include in the frame, but more often what you don't include.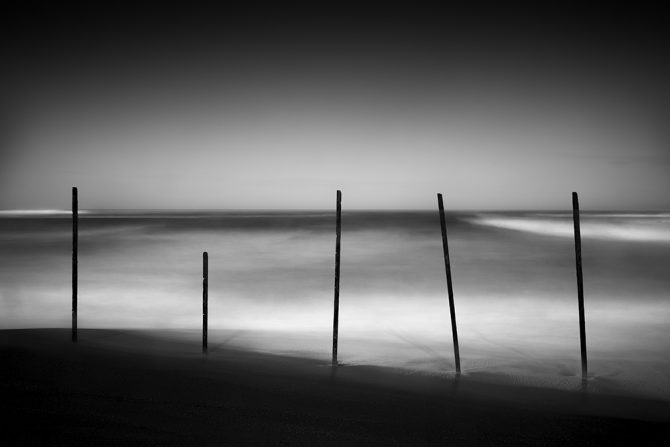 Five Sticks
Sometimes what you don't include is just as important as what you do include.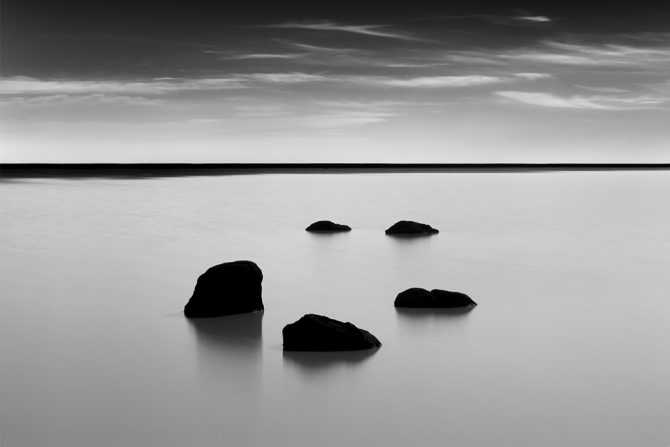 Iceland No. 12
I always ask myself two questions: what do I want the eye to focus on? What's my focal point?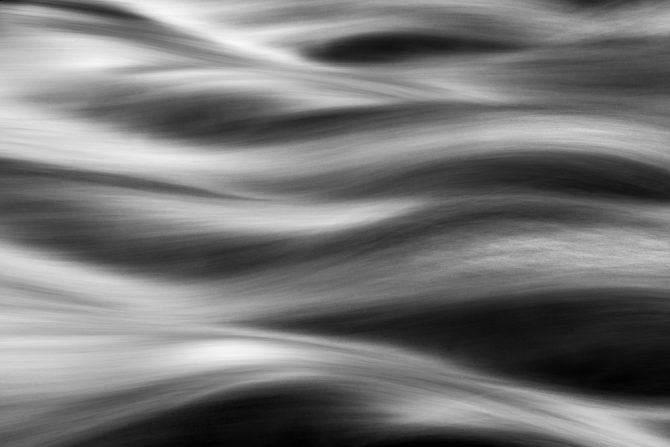 Fluid Water No. 45
And: what's not needed?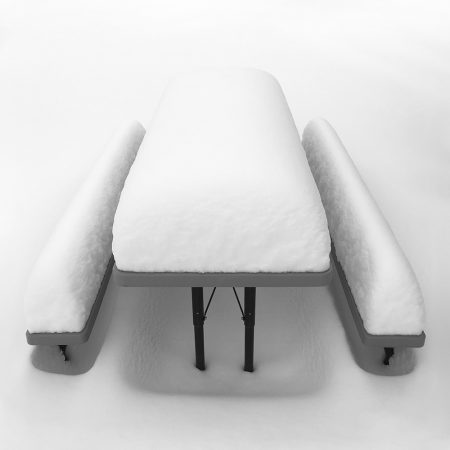 Deep Snow
Another element of "simple" is to eliminate detail.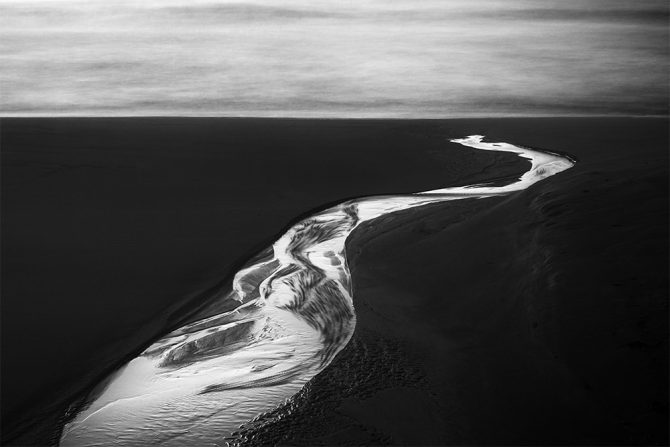 Separation No. 2
Yesterday I was looking at an HDR black and white image and it suddenly occurred to me why I don't care for them. The wide dynamic range includes too much detail, I find it distracting because it obscures the focal point.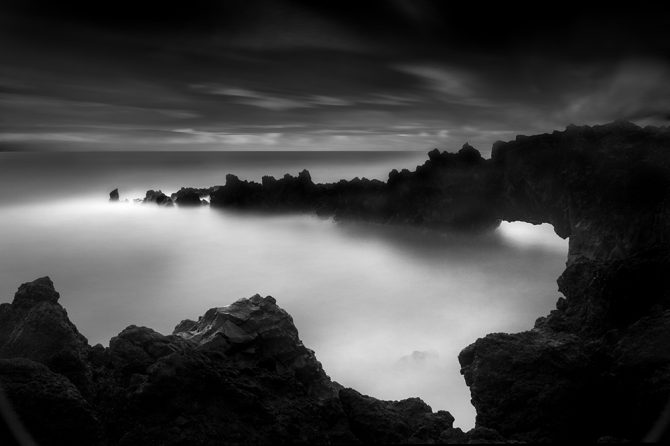 Hana
That certainly would have been the case with this image if I would have preserved all the shadow detail in the rock, it would have overwhelmed the image.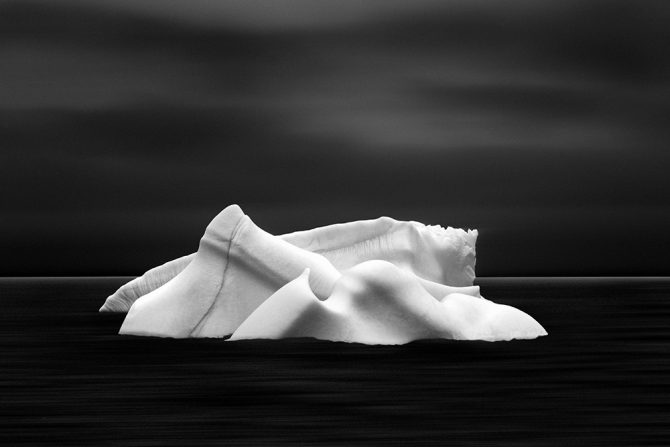 Melting Giants No. 22
One of my oft used tools to remove detail is the long exposure. I use it to smooth out detail in water and sky.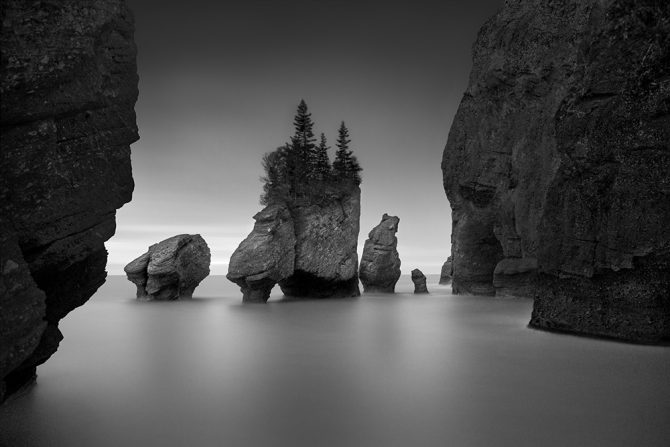 Isolated No. 15
This image, without the long exposure would not be nearly as clean or effective.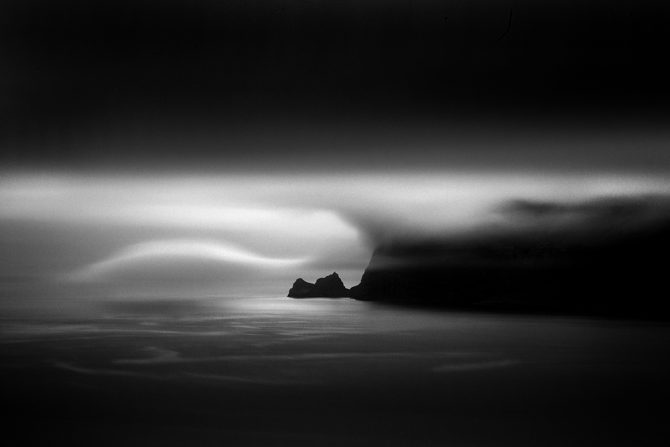 Faroe Islands No. 6
Another technique I love to use is burning down detail. While many photographers work to preserve shadow detail, I purposely eliminate most or all of it. When I do leave some shadow detail, it's very subdued.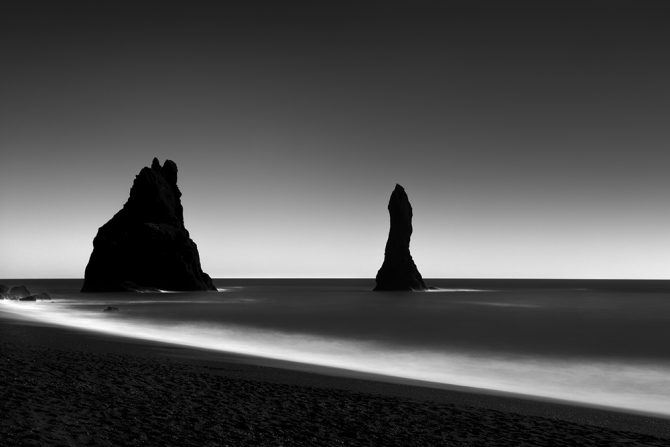 Monolith No. 62
Many of my images are very dark because I burn out all of the detail. This helps to simplify them.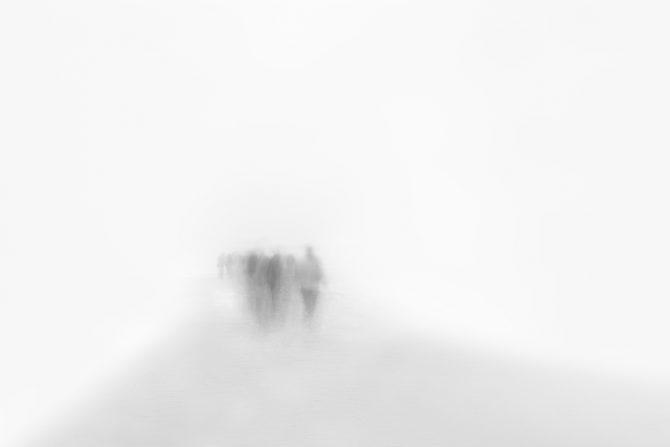 They Walk Among Us
And sometimes I'll do the opposite and dodge up the image to eliminate or reduce detail except where I'd like your attention to go, the focal point.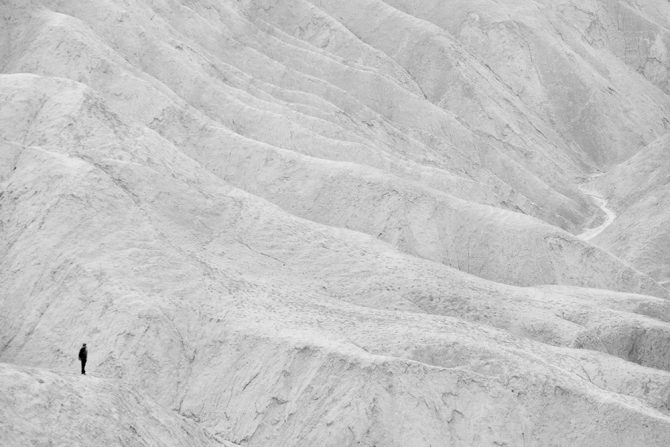 Lone Man, Zabriskie Point
This image has a lot of detail, but it's been pulled way back into the background by lightening it, leaving the lone man as the focus.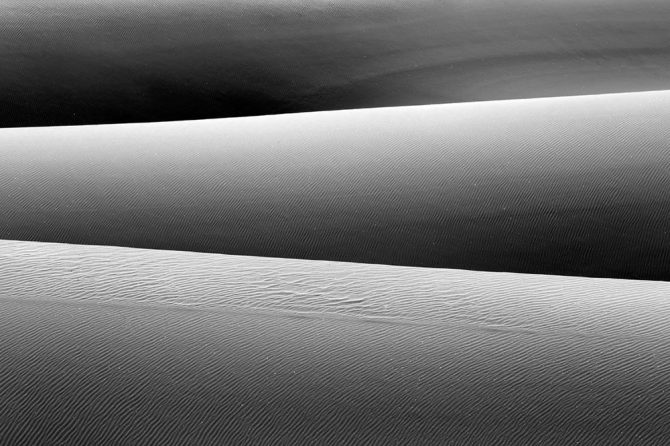 Dunes of Nude No. 73
And sometimes I both dodge and burn, bringing up the subject and burning down the surrounding area.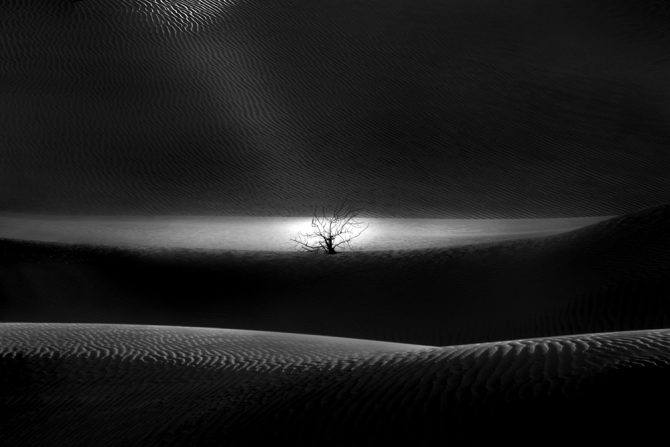 Isolated No. 20
That's what I did with this image, I darkened much of it to reduce the amount of detail and brightened the areas I wanted to focus the eye on.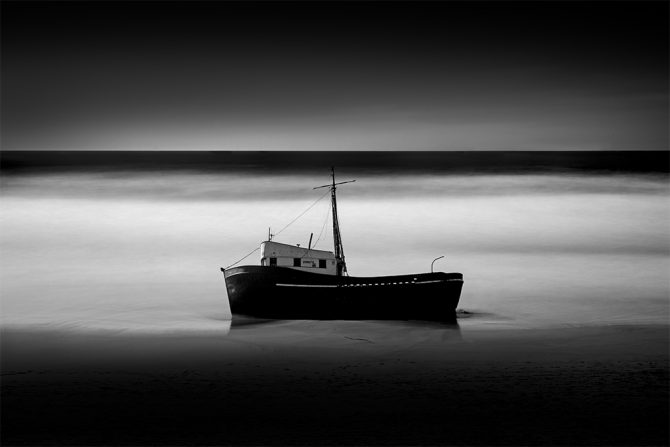 Run Aground
However I do it, simplifying the image always seems to make it better. It pushes the eye to the Focal Point.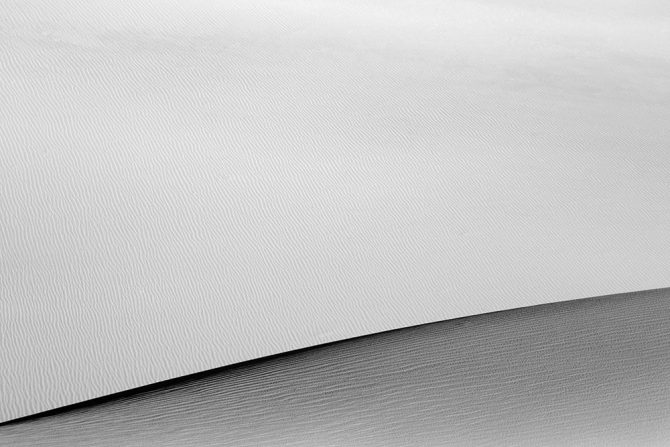 Dunes of Nude No. 86
It is true that sometimes, less can be more.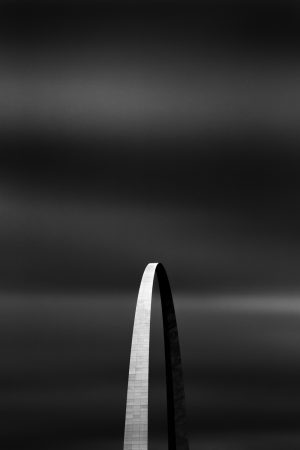 St Louis Arch
I love Black and White and I like it simple. Simple is often better.
Cole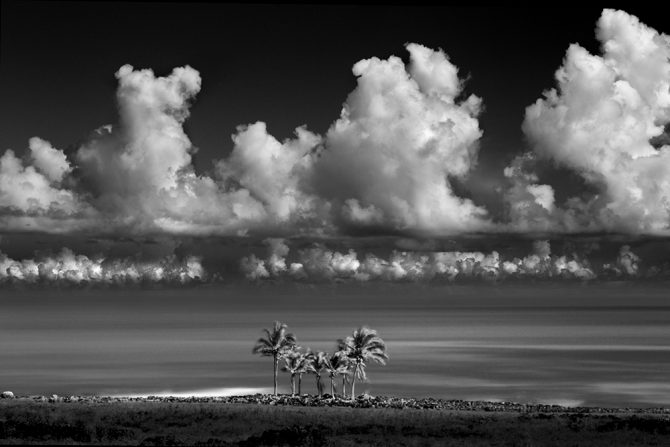 Palms, Rapa Nui
A photographer friend, George Digalakis, asked me to write this article for his blog: Inspirational Places. You can read the original article here: https://www.digalakisphotography.com/inspirations/ct-ei
My Favorite Location:
How does one choose their favorite location? It would be like choosing your favorite image or favorite child!
Sometimes it seems like the last location is always my favorite location. And philosophically, I don't believe an exotic location should be necessary for creating a great image. My philosophical hero, Edward Weston, said the following when he was confined to a chair with Parkinson's:
I should be able to look down at my feet and see something to photograph
But I have been fortunate to travel to many incredible locations. And of all the places I've been, Easter Island has been the most significant to me. Why? Because it has been on my mind ever since I read Thor Heyerdahl's book "Aku Aku" when I was 17 years old.
Now fast forward 47 years to when my wife and I were compiling our bucket list and I mentioned that I'd love to add Easter Island to the list, but that it really wasn't feasible. My wife asked: why not? I didn't really have an answer and so off we went in 2015.
Easter Island is known as the world's most isolated inhabited place. I tell people that it's really not that hard to get to, but it isn't for the faint of wallet. It's an expensive journey.
Easter Island is small, about 7 by 15 miles and has about 5500 inhabitants, some of which are the native Rapa Nui and also many Chileans. Only the Rapa Nui can own land on Easter Island.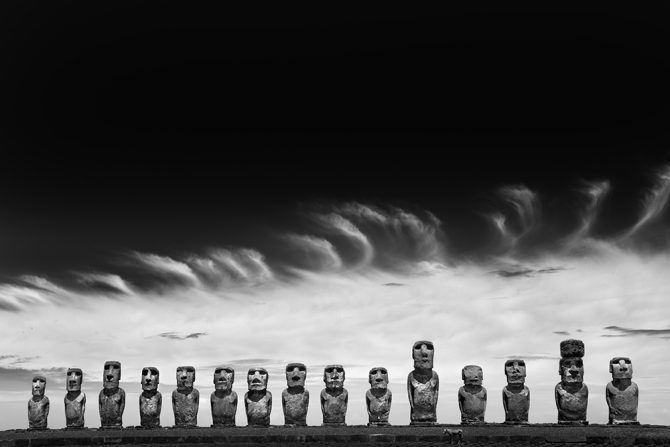 Easter Island is best known for its Moai, those monolithic statues carved by the ancients. There are about 1000 Moai on the island and about 30 standing on several different ahu's or alters.
I spent two weeks there, circumnavigate the island 3-5 times each day. I focused almost exclusively on the Moai and created three portfolios: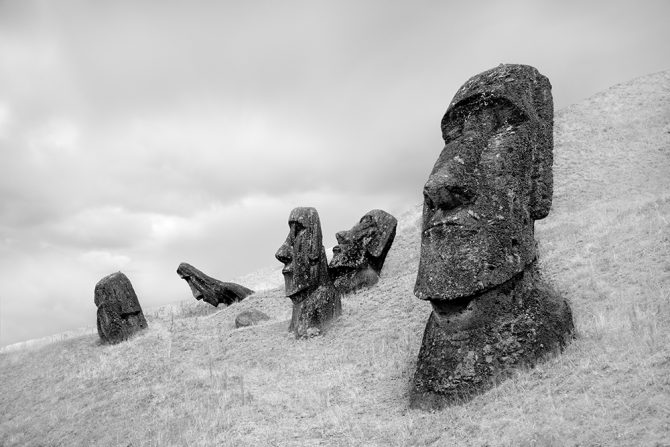 The Moai of Rano Raraku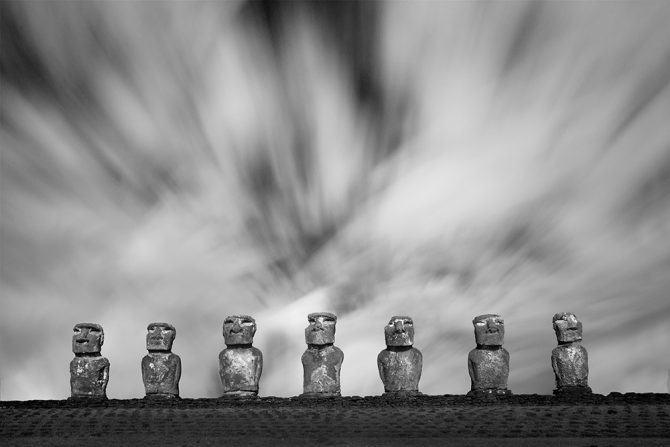 Standing Moai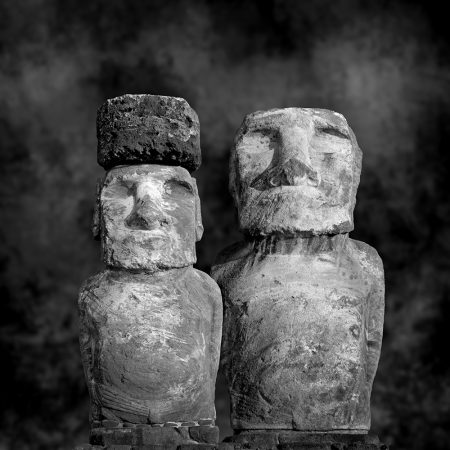 Moai, Sitting for Portrait
The portfolio I am most proud of is the "Moai, Sitting for Portrait" and how it came about. Here is my artist statement:
In January of 2015 I spent two weeks photographing the Moai of Easter Island. This fulfilled a lifelong dream, one that started when I was 17 and read the book "Aku Aku" by Thor Heyerdahl. I became fascinated with the Moai and they have been on my mind and influenced my art for these many years.
As I traveled to Easter Island and tried to imagine what I would encounter, something interesting happened: I fell asleep and dreamt that I had invited the Moai to come and sit for a formal portrait.
When I awoke I thought "why not?"
I knew there would be challenges: the Moai are reserved, aloof and almost unapproachable. They had suffered greatly at the hands of outsiders and the question was: would they come to trust me?
Distance was the first hurdle to be overcome: the island is small by automobile standards, but when we are talking about the Moai who walk everywhere, traversing the island to get to my makeshift studio could be difficult. Then there was the Moai's physical condition: many were incapacitated by war and the ravages of time and could not make the journey. And how would I accommodate the size of the Moai, with some towering 33 feet tall?
Facing these challenges and armed with nothing more than a dream and hope, I issued the invitations…but would they come?
Initially only a few came; the younger and less suspicious ones. But slowly, as word spread of their experience, others started to arrive.
Photographing the Moai created some interesting situations: one older Moai refused to allow me to photograph his face and turned his back on the camera. Another arrived with a hawk and insisted on having his portrait taken with the bird atop his head. Several Moai with bullet wounds, inflicted by outsiders, insisted that I document those scars.
And there were tense moments, as two rival Moai came together face-to-face in the studio, but which ended well when they agreed to be photographed together. And there were touching moments as old friends were reunited after years of separation.
The Moai are quiet, stoic and could even been described as "stone-faced." And it's true, not once was I able to photograph a Moai smiling, but instead they have a dignified poise that transcends time.
It was a lifelong dream that brought me to Easter Island and a sleeping dream that caused me to create this portfolio.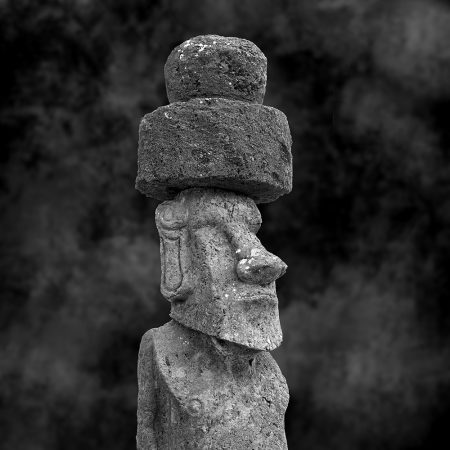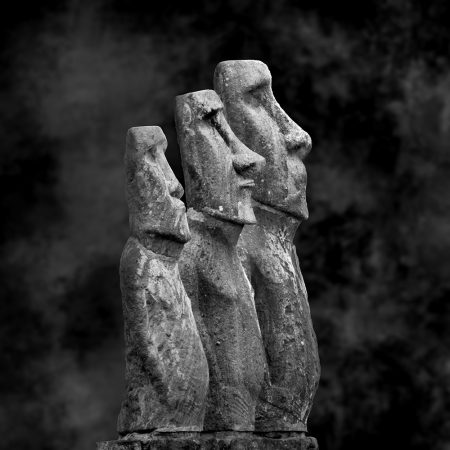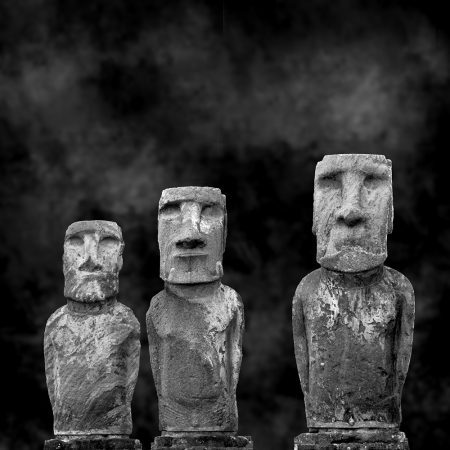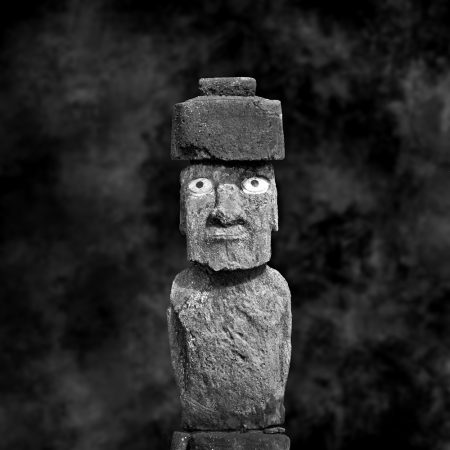 See all of the Moai portraits here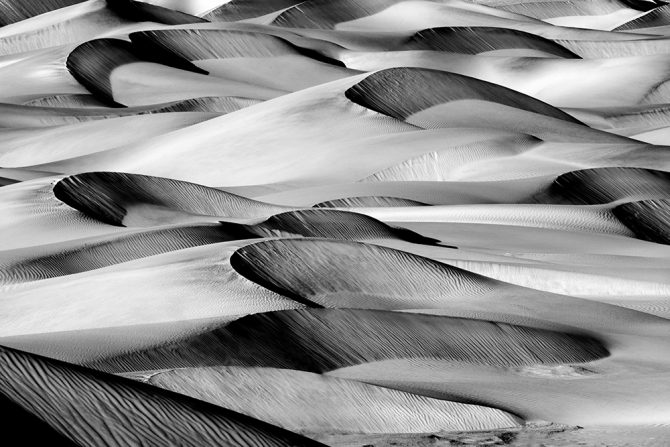 Dunes of Nude No. 227
In my last blog post I strongly suggested that people should not to listen to other people's advice, and someone called me on that advice! He reminded me that one of the best lessons I've ever learned came from following someone else's advice (Ansel's already done Ansel)
He's right, sometimes you should listen to the lessons taught by others! I'd like to share five lessons I've learned from important people in my life.

Mr. Casey
Mr. Casey owned Casey's Camera in Rochester, NY. Upon discovering photography at age 14, I visited the camera shop frequently…probably much too frequently. I was there all the time; talking, asking questions and buying old cameras which I would then trade in a month later. No matter how long I was there, how many questions I asked, how many times I traded in cameras…he was always patient and kind.
It wasn't until some 40 years later that I came to appreciate how very kind and patient he had been with me.
And so I decided to track down Mr. Casey and thank him for his kindness, but I wasn't even sure if he was still alive. I searched Rochester for Casey's camera and came up empty but did find a Casey's Camera in Las Vegas. I thought that was an odd coincidence and so I called the camera store and asked if they knew a Mr. Casey. The employee who answered said he had never heard of a Mr. Casey and didn't know how their store had come by that name. Just as we were ending the call, I heard someone in the background yell: Mr. Casey, Dick Casey?
It turns out that this man had purchased the store from Dick Casey after he had moved it to Las Vegas and then retired. He didn't know if Mr. Casey was still alive, but he knew that he had retired to Pennsylvania.
After a little research I found Mr. Casey and he was still alive. I spoke to him on the phone and told him my story and thanked him for his patience and kindness. He apologized because he had the beginnings of Alzheimer's and could not remember me or those experiences. And it didn't matter that he couldn't remember, I was grateful to be able to thank him and register an important life lesson: be kind to the little people…figuratively and literally.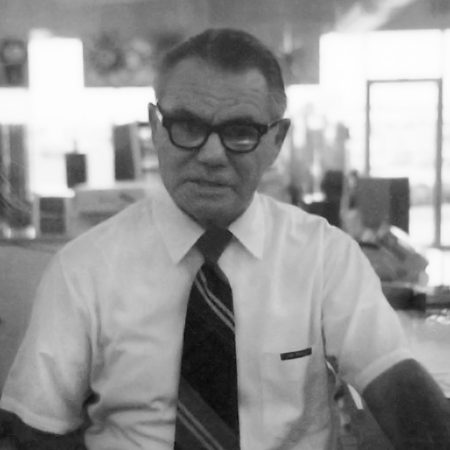 Joe Boyle
Joe ran Leonard's Camera Department in Garden Grove where I worked. Joe had been a combat photographer in World War II and after the war, he worked for the Hollywood studios taking stills for promotional purposes. Joe became more than a boss to me, he was also a friend and a mentor.
Joe's approach to photography was different than what I had seen and experienced: he learned photography in the depression era and practiced it in wartime conditions, where you had to make do with what you had on hand. This gave Joe the ability to solve any photographic problem with without heading to the camera store to purchase a solution. Joe's solutions may not have been pretty or fancy, but they did the job.
Once Joe taught me how to remove telephone lines from an image, not in the darkroom, but in the camera. He put his camera on a tripod and composed the scene. He then mounted an 8X10 piece of glass a few inches from the lens and while looking through the camera, used a Q-Tip to paint Vaseline over the telephone lines on the glass. The Vaseline would blur the telephone lines, rendering them invisible. It was beautiful in its simplicity and effectiveness.
I learned two lessons from Joe: the first is that you don't need the best equipment to create great images. And second, that if you have a problem, figure it out!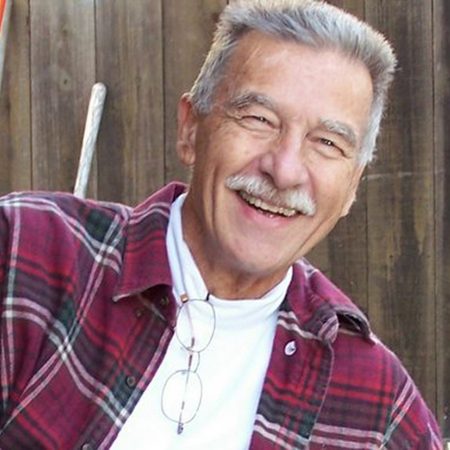 John Holland
John was my photo teacher at Loara High School and my friend for life. I skipped most classes in my junior and senior year (barely graduating) and held my own "independent study" in the photo department.
John was a "creative" and so much more than just a photographer. Besides photographing he painted, sculpted, designed and was an all-round creative person. The thing that I learned from John (although the lesson didn't sink in until much later in life) was that photography was not really about photographing, but about creating.
John had a huge influence on my photography and my life. I created the image "John Holland Memorial" in his honor as we gathered in the High Sierra to spread his ashes.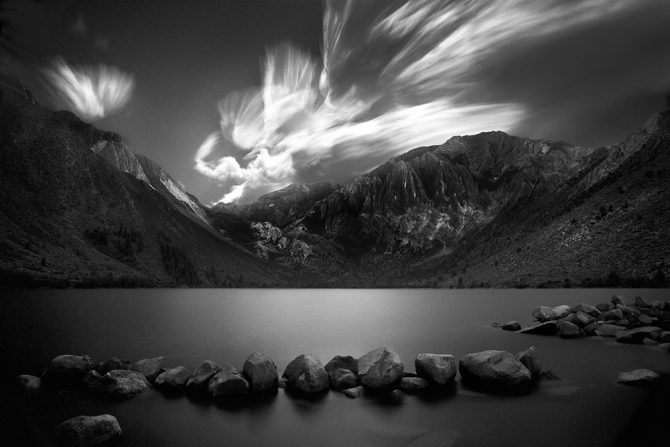 John Holland Memorial
I miss John, he died too young.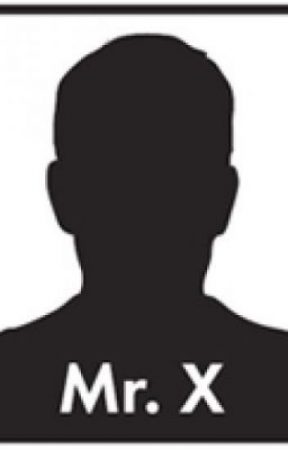 Mr. X
I call this next person Mr. X because I don't know his name. For those of you who have read some of my blogs or attended one of my presentations, you will be familiar with this story:
A few years ago I was attending Review Santa Fe where over the course of a day my work was evaluated by a number of gallery owners, curators, publishers and "experts" in the field.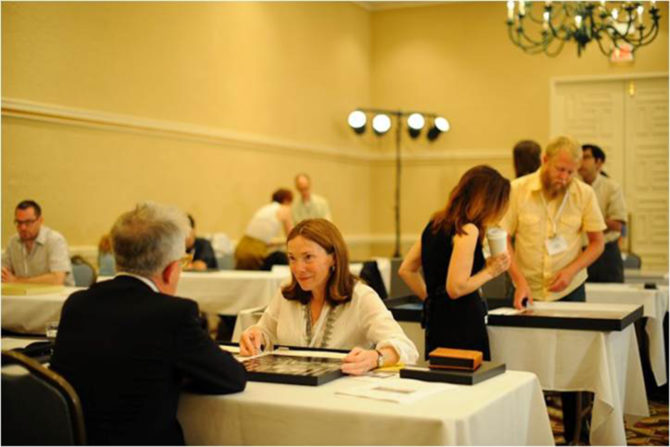 During the last review of a very long day, the reviewer quickly looked at my work, brusquely pushed it back to me and said "It looks like you're trying to copy Ansel Adams." I replied that I was, because I loved his work! He then said something that would change my life:
"Ansel's already done Ansel and you're not going to do him any better. What can you create that shows your unique vision?"
Those words really stung, but the message did sink in: Was it my life's ambition to be known as the world's best Ansel Adams imitator? Had I no higher aspirations than that?
That sent me on a journey to find out if I had a Vision. I did and it changed not only my photography, but my life.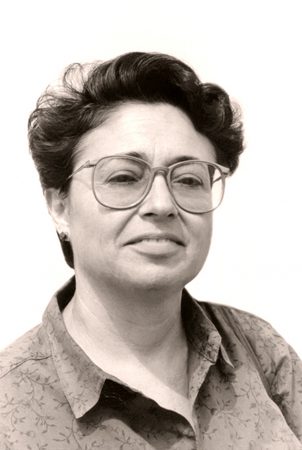 Vered Galor
Vered befriended me and became my mentor shortly after my return to photography in 2004.
She and I were exact opposites in one respect, she was an artist who used a camera and I was a photographer who used a camera. She created while I documented and we had many spirited discussions about that. I had grown up with a photographer's mentality and for me there was no worse sin than to "manipulate" an image. Vered was an artist and tried to convince me to create, which I resisted.
I am grateful that Vered was even more stubborn than I was, and did not give up on me. This is the first image that I felt that I had "created" from my Vision, and not just documented: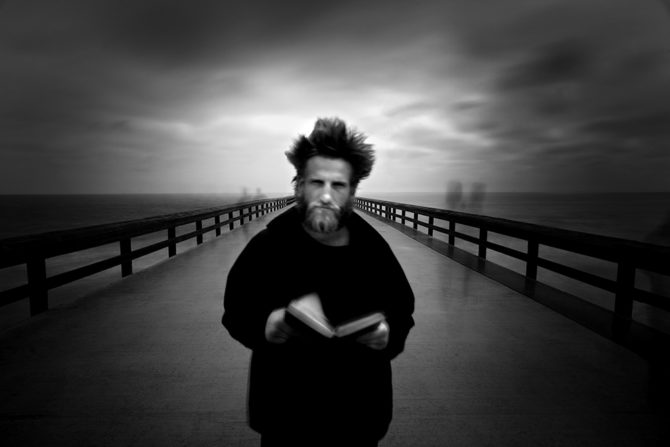 The Angel Gabriel
There are many great lessons to be learned from others, some come from advice given and others come from examples lived.
Cole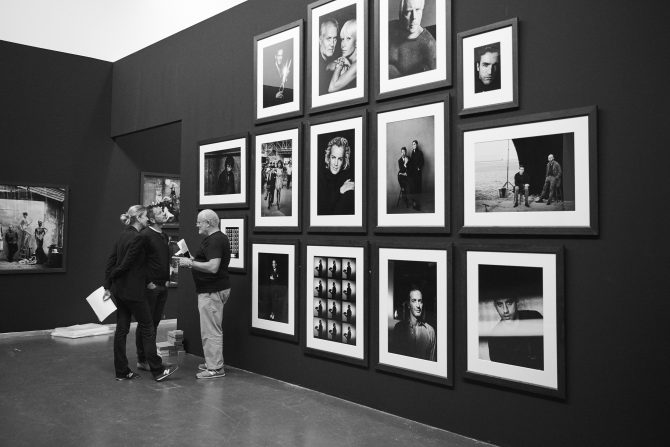 Copyright by Peter Lindbergh
A young artist is exhibiting his work for the first time and a well-known critic is in attendance.
The critic says to the young man: "would you like to hear my opinion of your work?"
"Yes" says the young man.
"It's worthless" the critic says.
"I know" the artist replies, "but let's hear it anyway."
---
Did you laugh when you read this? I did, loudly!
If you've read many of my past blog posts, you'll know that this is exactly how I feel about the opinion of "experts." Their opinion is worthless. Why?
Because no matter what they are expert in, they can never be expert in one thing: Your Vision.
And if you are being true to your Vision, then no expert's opinion can ever change your mind or change your course. You must create what you see inside of your head.
But if you have no Vision, then you are left to flounder about, not knowing which way to go and will be tempted to look to others for direction. And the problem of course, is that their advice will be based upon their Vision, their preferences and their opinions.
To be confident enough to ignore the advice and opinions of others, you must have a conviction of your direction…and that means you must have your own Vision.
I choose to create according to my Vision and to produce work that I love and am proud of. Because at the end of the day, what I think of my work is the only thing that really matters. Accolades last for only a short time, but personal satisfaction lasts forever.
Each of us possess this amazing ability to create, but we are often held back, not because we lack ability, but because we doubt ourselves. We create how we think we should create, how others have created, we create to follow the rules and we create to meet the expectation of others.
Letting go of all of that, and creating what you see and feel, is the key to unlocking your potential and producing work that you love.
Others may not understand or appreciate your work, and that's okay, it's not for them.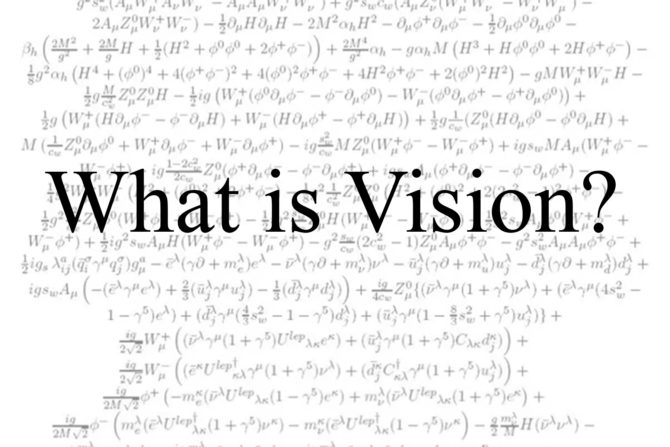 Years ago when I was challenged to find my own Vision, I immediately faced a dilemma: I really didn't know what Vision was. Sure, had a vague idea but I could not define, identify or even understand it.
I had this notion that it was some sort of creative ability that you were either born with or not. This caused me great apprehension as I set about to find it: I feared that I might be one of those unfortunate individuals who did not "have it." That scared me enough that I actually questioned if I wanted to go down this path: what if I discovered that I didn't have a Vision?
Well, I did go down the discovery path and I did find my Vision. With that discovery I learned something very important:
We all have a Vision, every one of us is born with one. Unfortunately for many of us, and this was my case, it can become buried when we conform, follow the rules and value other people's opinions more than our own. For some of us, me again, my Vision was so buried for so long that I came to believe that I didn't have one.
But I did and so do you.
Here's how I describe Vision: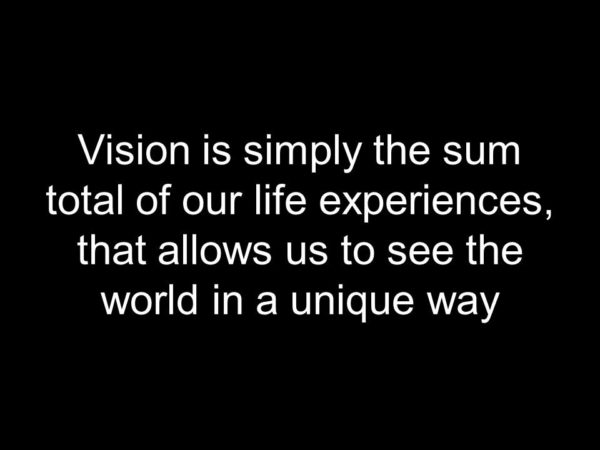 Or put another way by a French philosopher: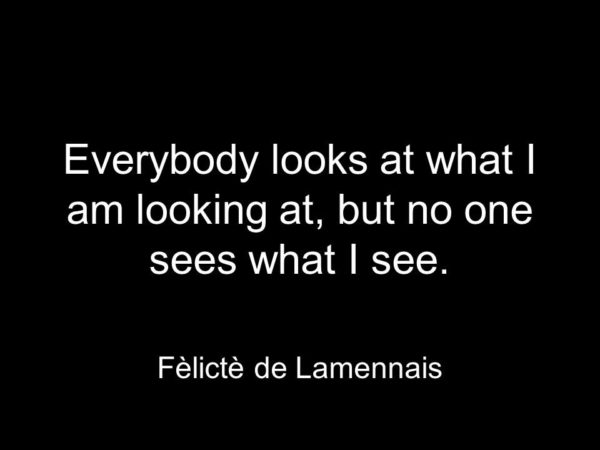 Vision seems so simple to me now, but I remember back when I was searching for it, it seemed so complex!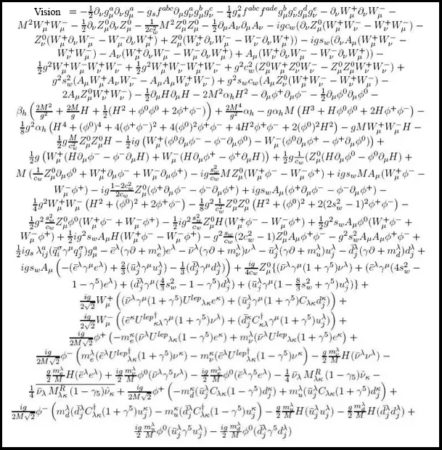 When in reality it is such a simple formula: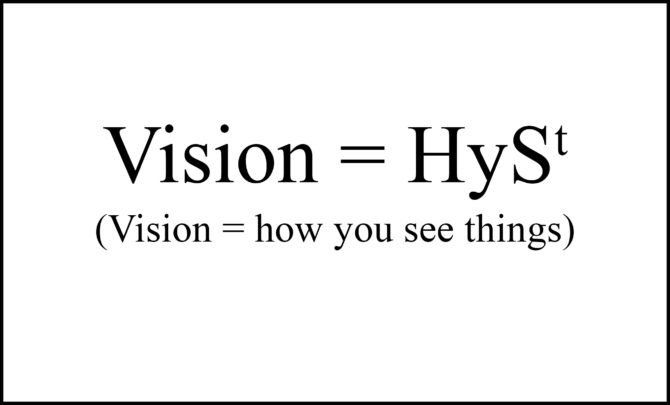 Here's another way to describe Vision: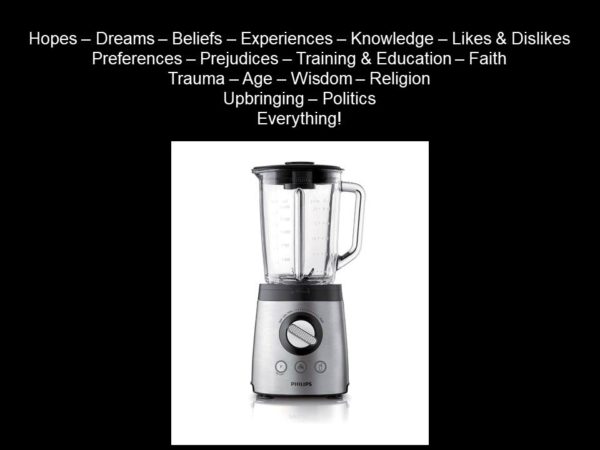 Imagine if you took all of your beliefs, knowledge and experiences and blended them together…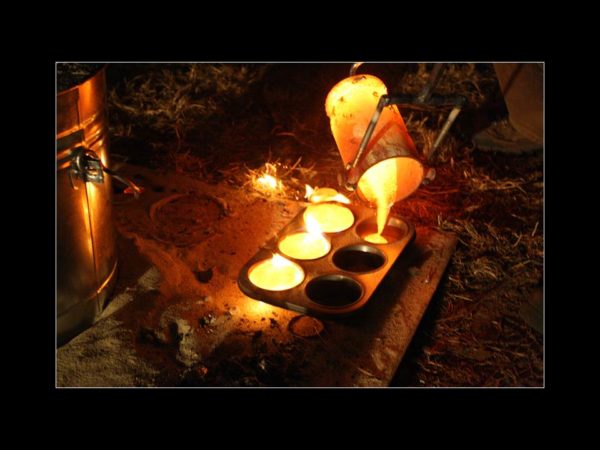 …and then took that mixture and cast lenses…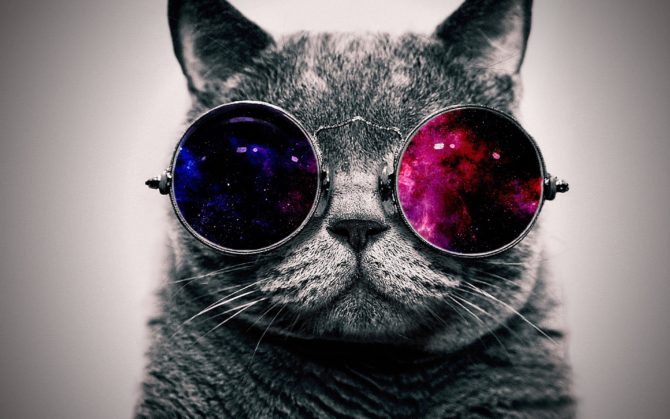 …that you then used to see the world through…that is your Vision. It is simply how you see the world through the lenses of your life experiences.
Vision is not something I can point to, identify or describe just as I cannot describe my personality, because it's too multi-faceted and complex. Sure I can describe parts of my personality, such as "sometimes I can be moody," but that does not come close to describing my complete personality.
My Vision is comprised of many beliefs, experiences, teachings, preferences, prejudices, likes and dislikes. You might think of Vision as your photographic personality. This personality affects where I point my camera, how I expose the image and then process it.
Let me give an example. Each year when I visit Death Valley I avoid the "iconic shots." Why? Because part of my personality, and hence my Vision, is to not follow the crowd.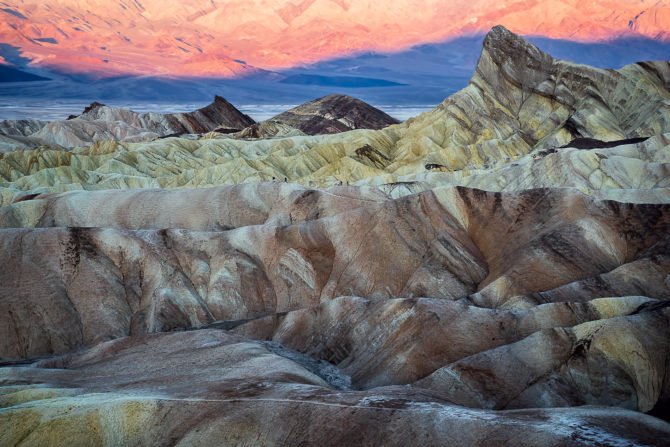 Zabriskie Point by James Brandon
So when I see that everyone creating images from Zabriskie Point that look like this, then I'll not be doing the same thing.

Photographers lined up to photograph Zabriskie at dawn
Likewise, when I see everyone pointing their cameras in the same direction, my reaction is to look in the opposite direction to see what they might be missing.
As I photographed at Zabriskie Point, here are some of my photographic personality traits that affected how I saw things:
I avoid the iconic shots
I don't like doing what everyone else is doing
I like creating something unique
I love dark, high contrast b&w images
I prefer abstracts over realistic landscapes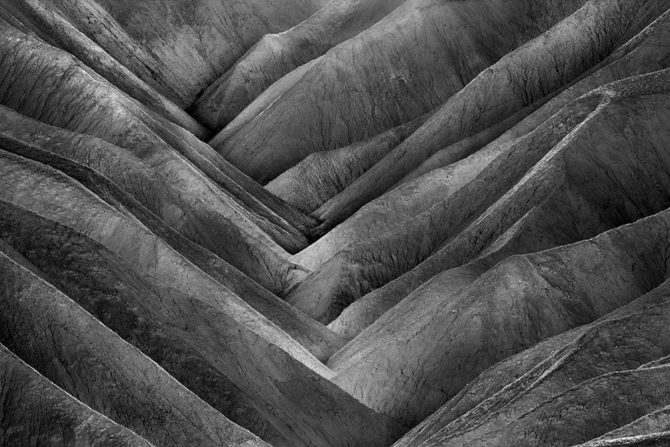 Time No. 2
And so while everyone was photographing the iconic color scene to the west, I turned my attention to the east and created Time No. 2. All of those little photographic personality traits that make up my Vision allowed me to see something unique and different from what the others were seeing.
And you, with a different Vision, would probably have created something entirely different also. That's the beauty of Vision, there are 7,596,362,764 unique Visions in the world! Yes, we all have one, even non-photographers.
So what is Vision?
It is the sum total of your life experiences, it is the lenses you see the world through, it is your photographic personality and it is your inner voice (or the "force" for you Star Wars fans).
There is no need to be able to define, identify or describe your Vision. All you really need to know is that your Vision is there and then follow it.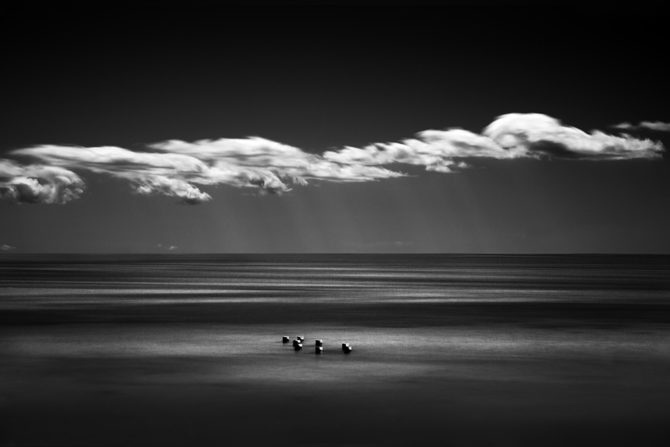 6/1/2018 from 5-7 pm – First Friday at the Bas Bleu Theater. I will be exhibiting some of my large images for First Friday. If you miss this event, I am also here again on 7/6/2018 (see below). Location: Bas Bleu Theater, 401 Pine St, Fort Collins, CO 80524
6/8/2018 at 6:30 pm – Focus Camera Club. I'll be giving two presentations: "Why Black and White" and then "B&W Processing" using my very simple six-step method which is meant to deemphasize the technical and emphasize the creative. Location: Lone Tree Civic Center, 8527 Lone Tree Parkway, Lone Tree, CO.
6/13/2018 at 7 pm – Colorado Mountain Club. I'll be speaking about B&W and how Vision is the most important tool a photographer has in their toolbox, even more important than equipment! Location: American Mountaineering Center at 710 10th Street, Golden, CO,
7/6/2018 – First Friday at the Bas Bleu Theater, Fort Collins. I'm showing my large works from 5-7 pm (I'm lucky to get two First Friday's!) Location: Bas Bleu Theater, 401 Pine St, Fort Collins, CO 80524
It's hard to believe that it's been ten years since I first started practicing Photographic Celibacy. It's hard to believe because I never thought that I would do this for so long. I figured that it would last for 3-4 years and then be done with it.
So what is Photographic Celibacy, why did I start this practice, why am I still doing it and what are my thoughts some ten years later?
First, the story on how Photographic Celibacy came to be.
The Wake-Up Call
A few years ago I was attending Review Santa Fe where over the course of a day my work was evaluated by a number of gallery owners, curators, publishers and "experts" in the field.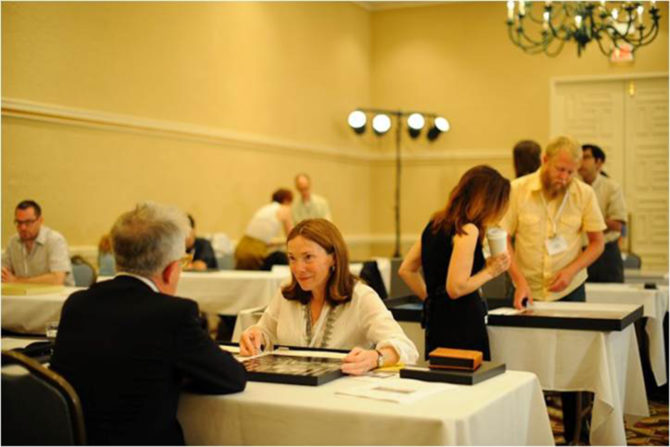 During the last review of a very long day, the reviewer quickly looked at my work, brusquely pushed it back to me and said "It looks like you're trying to copy Ansel Adams." I replied that I was, because I loved his work! He then said something that would change my life:
"Ansel's already done Ansel and you're not going to do him any better. What can you create that shows your unique vision?"
Those words really stung, but the message did sink in: Was it my life's ambition to be known as the world's best Ansel Adams imitator? Had I no higher aspirations than that?
I desperately wanted to know if I had a Vision, but there was a huge problem: what exactly was Vision and how did I develop it?

What is Vision?
I found little help when searching the internet: I found several definitions of Vision, but none of them made any sense to me. Was it something you were born with? Was it something you could learn? Was it a style or look? Was it a talent that you developed? Could you go to photography or art school and gain it?
The Plan
I desperately wanted to know if I had a Vision, but the possibility of finding out was scary. What if I found out that I didn't have one…what did that mean for my photographic aspirations and future? Part of me didn't want to find out (I figured it would be better to be mediocre and have hope rather than mediocre and have no hope). But after I got over the initial fear, I knew that I had to find the answer.
So I devised a plan to find my Vision. I created a list of ten things that made sense to me, including:
I separated my work into two piles: work that I really loved and everything else. And then I tried to understand what it was about those images that made me love them.
I then committed to never again create images like those in the second pile. That included images that others loved, images that sold well and images that had won contests. It also meant that I would continue to create images even if no one else liked them, they didn't win contests and didn't sell…as long as I loved them.
I stopped listening to other people's advice about my images. I figured if I was going to find MY Vision, I needed to stop listening to others no matter who they were, how accomplished they were or how successful they were. Their advice came from their experiences and point of view and not mine.
I needed to stop paying attention to what others thought about my work and so I stopped posting images on social media and entering contests. I was doing all of that for the validation, because I lacked confidence in my work. Each time I got a like or won a contest, I saw that as evidence that my work must be good.

Photographic Celibacy
And I did one other thing, perhaps the most controversial and certainly the most significant: I stopped looking at the work of other photographers.
Why?
Because I felt that if I continued to immerse myself in the images of others, I would continue to create work that looked like theirs or was a derivative of theirs.
I wanted to create my own work, from my Vision. I wanted to see through my eyes and not through the eyes of those photographers whose work I spent hours and hours looking at.
Did It Work?
Did it work…did I find my Vision?
Yes!
As I stopped looking at other people's images and focused on what I was creating and what I thought of my work, my Vision began to emerge. The work I am creating now is my work, not an imitation of someone else's. Now that doesn't guarantee that my work will be liked by others, will sell or win awards…but it does guarantee that I'll love my work and have the satisfaction that comes from creating honest work.

Ten Years Later
Ten years later and I'm still practicing Photographic Celibacy because I find it a useful practice for two reasons: first I'm still inclined to copy other's work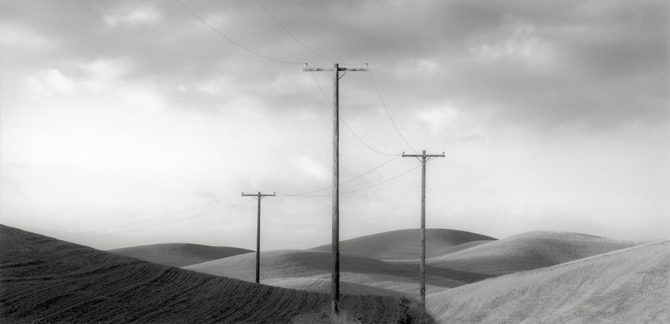 An example: a couple of years ago I had an image featured in the book "Why Photographs Work" by George Barr. When I looked through the book to find mine, I saw this wonderful image entitled "Three Crosses" by Brian Kosoff (above). I fell in love with the image, contacted Brian to purchase a print and hung it in my office to look at while I worked.
But then something began to happen, for the next several weeks I found myself driving around, looking at telephone poles so that I could create such an image. But then I remembered:
Ansel's already done Ansel and Brian's already done Brian.
And the other reason I still find Photographic Celibacy useful: it keep me focused on what I am doing and not what others are doing. When I look at the work of others I find myself comparing their images and successes to mine. Sometimes I get discouraged at the large number of great photographers out there and all of the great images being created. All of this is an unnecessary distraction that keeps me from my purpose: creating images from my Vision.
Staying focused is hard and even harder when you are looking and comparing yourself to others. As my mother used to say: what others are doing is none of your business!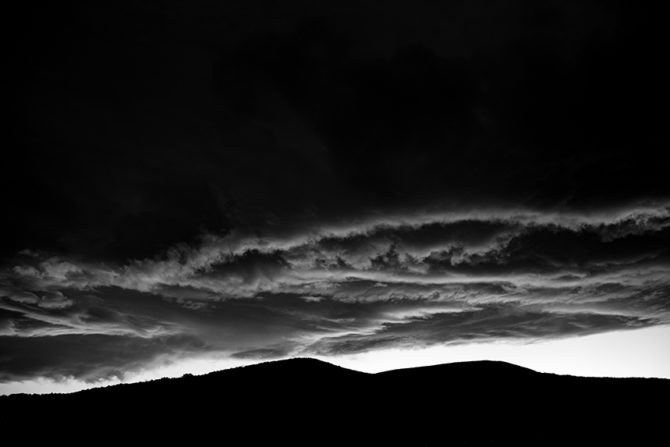 Lessons Learned
Here is what have I learned in these ten years regarding Photographic Celibacy:
Photographic Celibacy may not be for everyone. When I first shared my views on Photographic Celibacy, they were not well received. About 75% of the people thought it was just a stupid idea (and many said so), about 20% understood but said it wasn't for them and about 5% understood and pursued the practice. One thing I see more clearly now is that while this practice works for me, it may not be right for everyone. Perhaps others are not as influenced by other photographer's work as I am, or perhaps they are but feel that Photographic Promiscuity is the best creative path for them.
Not everyone is seeking their Vision. I have come to recognize that not everyone wants to create from their Vision. For some, photography is simply a hobby that they enjoy, others are interested in documenting while others still are focused on the technical aspects of photography. If you're not seeking your Vision, you should keep enjoying the work of others!
Celibacy may be appropriate at a certain point in a person's creative development. I am more open to the idea that Photographic Celibacy may be a practice that is best applied at a certain point in a photographer's creative development.
For me, this point came during a creative crisis: I desperately wanted to do more than imitate…I wanted to create images that were mine! I wanted this so badly that any sacrifice was worth this prize, even not looking at other photographer's images.
Photographic Celibacy still serves a purpose, even ten years later. I always thought that once I had answered the question: do I have a Vision? that I would be able to go back to looking at images. But I discovered that the same forces that kept me from my Vision are still at work ten years later. And so, I believe that practicing Photographic Celibacy is as important for me today, as it was ten years ago.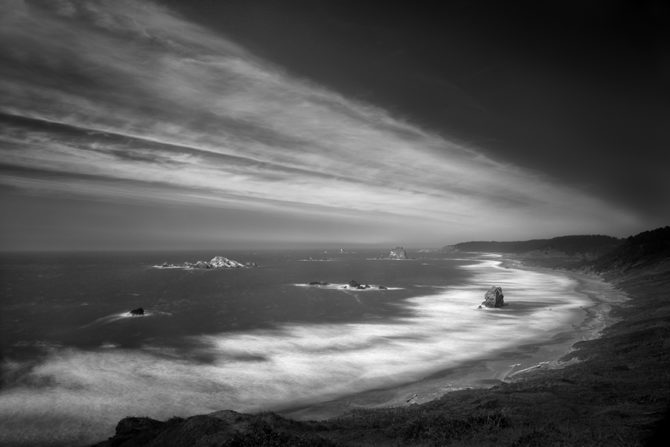 Conclusion
So here I am ten years later, more committed than ever to Photographic Celibacy. Why? Because it works for me.
Will it work for you? Only you can answer that.
It has been one of the key ingredients of my success, which I define as creating images that are honestly mine and that I love.
Will I practice Photographic Celibacy forever? I don't know, but I will for as long as it serves a useful purpose.
Cole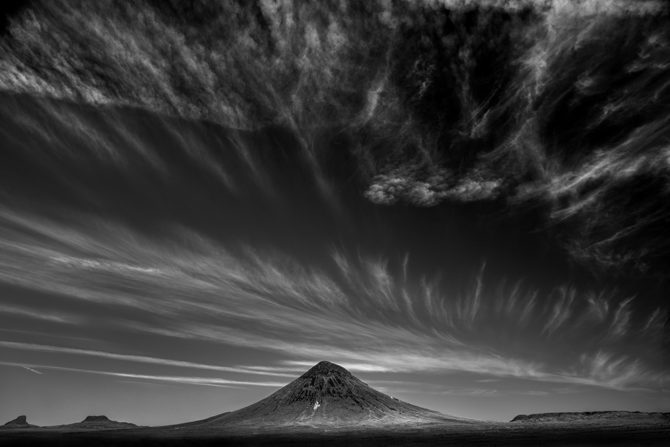 In the many conversations I have with myself, I frequently refer to the concept of creating "honest work." So what does "honest work" mean to me?
• It is work that I have created from my Vision
• It is work in which the idea originated from within.
• It is work that was created for myself with no thought of pleasing others.
• It is work that I love regardless of how others feel about it.
"Honest work" has become my most important standard. It is a test that I apply to myself and to my work to ensure that I am staying true to the principles that allow me to follow my Vision.
When I create work where the ideas and Vision are mine, then I have confidence in my creations. But when I am creating to win awards, gather likes and to please others… then the satisfaction is shallow and fleeting. Each "like" must be followed by another and another and another in order for me to believe that my work is good.
Creating honest work is the only way that I choose to work because it guarantees internal satisfaction. My work may not be liked by others, it may not win awards and it may not sell…but when I look at it I am proud of what I've created.
But for all the benefits that come from creating honest work, there are some things that it cannot guarantee. It cannot guarantee that my work will be unique or that it will be liked.
I've created two projects that I considered to be honest work only to find out later that were very similar to other people's work.
The first was my Grain Silo series which was the first portfolio that I submitted to LensWork. Brooks Jensen responded that they had just published a very similar body of work by a photographer named Larry Blackwood. Ironically Larry and I knew each other and we were both working on our projects at the same time, unbeknownst to one other. (1)
I had created honest work, but it was not unique work.
The second example occurred just recently. For the last several years I have been working on a portfolio entitled "The Dunes of Nude." The idea was honestly conceived and executed, but when I submitted it to LensWork it was rejected and I was told that they frequently see work just like this. (2)
Creating honest work did not guarantee that my work was unique.
Was I disappointed when I discovered that my work wasn't unique? I was disappointed that it didn't make it into LensWork, but I was not disappointed with the work itself because in a way the work really was unique…not unique to LensWork or the photo world, but it was unique to me.
Unique to me…what does that mean?
It means that I came about the idea on my own, I was not influenced by another photographer's work and I created the images through my Vision. It was an honest creation, it was unique to me.
But shouldn't my goal be to create work that is unique and different from everyone else's? Unique is good, but only if it's a by-product of an honest creation.
There's something else honest work cannot guarantee: even if you follow your Vision, create for yourself and produce unique work…there is no guarantee that people will like it!
For a long time I believed that if I was sincere, worked hard and created passionate work from my Vision…that I would have a shot at becoming the next Ansel Adams!
However, that just ain't so folks.
I have come to accept that the work that I create appeals to a very niche audience. And as long as I am true to my Vision and create honest work, my audience will remain small. But that's okay because it's more important that I love my work than to have a larger audience.
Would I like to have both? Absolutely! But I cannot control both sides of that equation, I can only control what I do…and I choose to create images that I love.
On my journey to find my Vision, I listed ten things that I was going to do that would assist me on this journey (http://www.ColeThompsonPhotography.com/2014/05/09/finding-Vision/) One of those items was to create only for myself regardless of the consequences. I recognized that in order to create from my Vision, I had to exclude all opinions except my own. I had to have what I refer to as "pure motives" in order to create "honest work."
Creating honest work allows me to create from my Vision and creating from my Vision allows me to create honest work. It's a symbiotic relationship that works for me and while it does not guarantee external success, it does guarantee internal satisfaction.
Cole
(1) Brooks led a round table discussion on this topic in volume 76 and began the discussion with the story of Larry and I creating parallel work, calling it "Fellow Travelers"
(2) Some would argue that this is one of the many disadvantages of practicing Photographic Celibacy; you don't know what work is being created by others. I don't see this as a disadvantage however. Even if I knew what others were doing, how would that help me to create better or more unique work? My best strategy is to not worry what others are doing and try to create my best work from my Vision.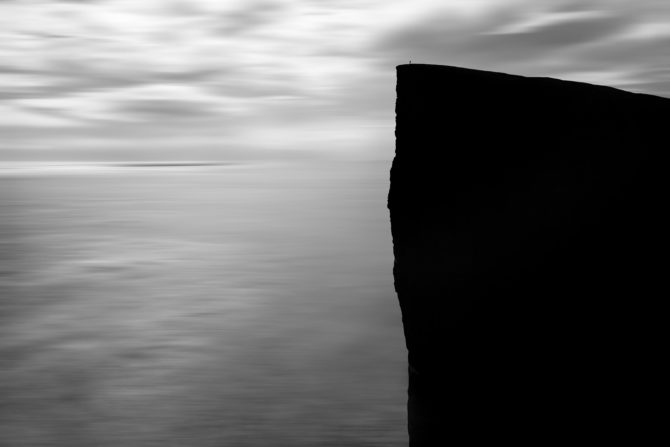 This is my most recent "Lone Man" image, Number 59. It was created on the Faroe Islands and is significant to me because it is my daughter-in-law Erica who is the lone man! Just off to the right and out of sight is my son Cody with their daughter Margot in a backpack. (It drove me crazy watching them near those cliff edges)
I have a terrible fear of heights. It's almost debilitating. I either feel drawn over the edge or I feel like I'm going to collapse. And the longer I am near the edge, the worse it gets.
For this shot and several others, I am sitting 6″ away from the edge with my tripod collapsed low to minimize the wind. How high up was I? At least a mile, maybe two! (well, it felt like it and it was very, very high up)
I was shooting multiple long exposures that were sometimes four minutes long. I'd have to sit very still and keep downward pressure on the tripod to keep it from moving. After about 20 minutes of this, I couldn't stand it any longer and had to crawl away from the edge.
I went back to this site several times during my trip and each time it got harder and harder to be near the edge.
The man whom I rented my apartment from was a police officer and he said that every year a tourist or two would go over the edge somewhere on the islands. And when that happens, there are no rescues, only retrievals.
Cole