Out of Chicago Live! 2021
Hi everyone, as you might remember I was to present at Out of Death Valley in January, but our dear friend Covid had other ideas.
So now I'm scheduled to participate in Out of Chicago Live! 2021, which being a webinar event, is certain to take place.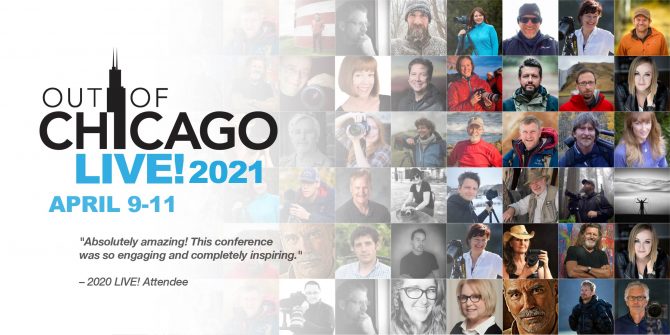 I'll be participating in three ways:
First, I'll be presenting my "Why Black and White" presentation. Now, if you're thinking "yeah, yeah, I've heard that presentation before." Think again Ansel, it changes almost every time I present it!
Second, I'll be conducting a class called "The Photoshop Heretic" on my super-simple Black and White processing approach.
And thirdly, I'll be participating in a panel discussion entitled "Are You A Photographer or Artist?" A topic I'll enjoy since I've been on both sides of that fence.
There are a lot of great people participating and lot of friends!
John (I taught him everything) Barclay

David (he loves my donkey) Kingham

Jennifer (I love her dolphins!) Renwick

Brooks (how does he do it all?) Jensen

Chuck (whom I've never met) Kimmerle

Sarah (my Colorado neighbor) Marino
Should you attend Out of Chicago Live! 2021? Hop on over to their website and check out the program and you decide!
https://www.outofchicago.com/conference/live-2021/
But I will be there, stirring it up and being 100% honest…but always with respect for another's point of view.
Cole