Ten Things I Would Never Do…Again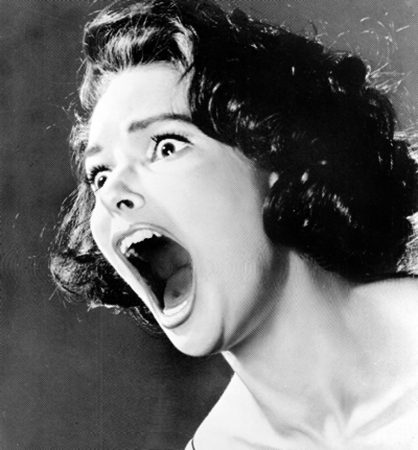 When you read these "Ten Things That I Would Never Do" you may disagree with one of them, you may disagree with several of them and you might even be offended…
Please don't be!
These are not ten things that YOU should never do, but ten things that I will never do…again.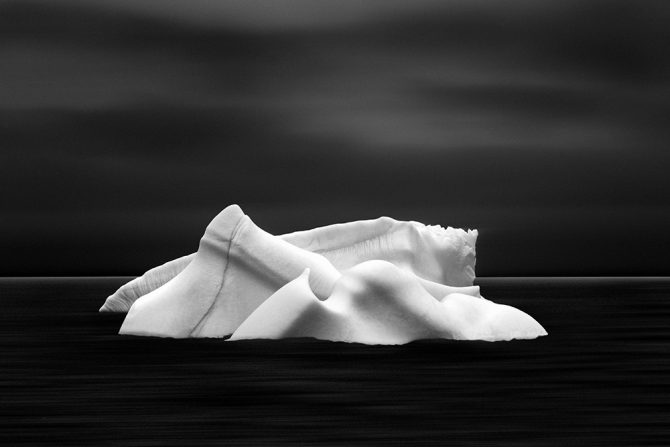 1. Offer advice about someone else's image.
Why? Because that advice would come from my perspective and Vision, not theirs.
People often ask me: what would you do with this image? And I say: if I were to tell you what I would do, and you followed my advice and you kept following my advice, soon your images would look like mine.
And please believe me, you don't want that. Ansel has already done Ansel and Cole has already done Cole. You want to do "you."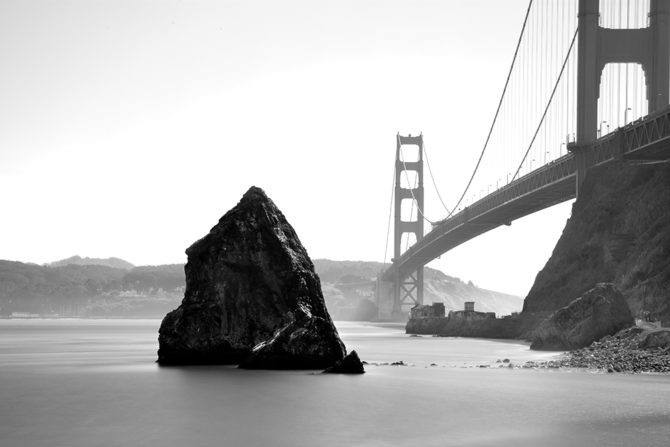 Monolith No. 50
Created with a Manfrotto 3021 Pro Tripod and Lowepro Bag Model 200 AW.
2. Give technical specifications.
I hope you smiled when you read the technical specifications above image and said to yourself: the tripod and bag don't have anything to do with this image!
I don't believe any specifications, including camera, lens, aperture, shutter speed and etc. have anything to do with an image either. It distracts from the image and worse, listing specifications furthers the false belief that they are the key to the image, when the real key is the creativity and Vision of the artist.
A few years back I submitted an image to a publication which responded that I "must" include the technical specifications…but they didn't say which ones.
And so I gave them the specifications of my tripod, including how far the legs were spaced apart for the shot.
They did not respond…but published the image.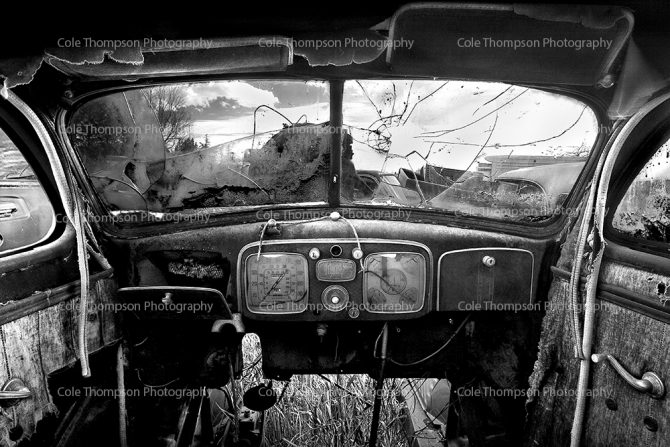 3. Use watermarks.
I think it sacrilegious to put a watermark on an image, it's so distracting that it ruins my viewing experience.
I know the arguments for using them, but I love my images far too much to desecrate them in this way.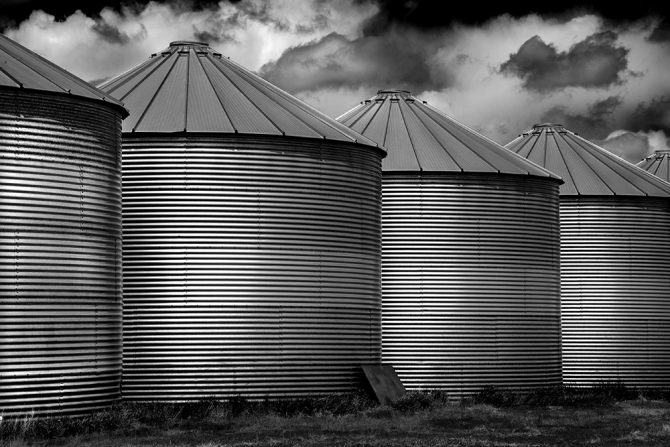 4. Copy someone else's idea.
"Lesser artists borrow; great artists steal."
Pablo Picasso.
I have no idea what Pablo was thinking, but I have to disagree…big-time.
Everyone sets their own standards, but in my quest to create "honest work," I refuse to borrow or steal.
But sometimes I do create work that is similar to others…
Several years ago, I submitted my "Grain Silos" portfolio to LensWork. Brooks Jensen responded that he liked the work, but that he had just published something very similar in the current issue by a photographer named Larry Blackwood.
The irony was that Larry and I were friends, and unbeknownst to each other we were working on similar projects and had produced similar results. This resulted in Brooks writing an article about Fellow Travelers who sometimes create similar work.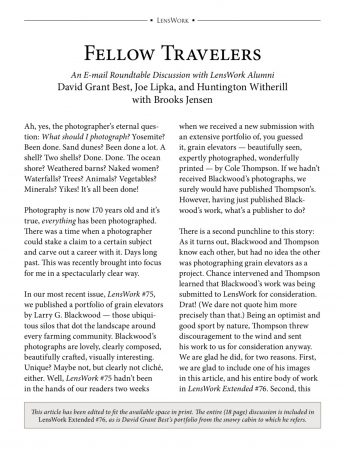 Coincidences…cool.
Borrowing someone else's idea…not cool.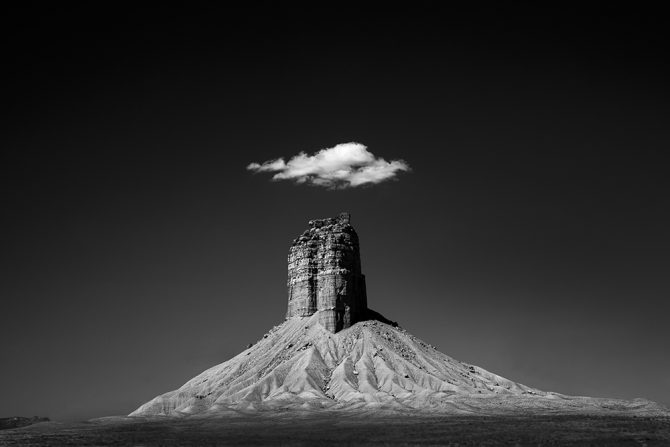 5. Imitate someone's work and send it to them.
"Imitation is the sincerest form of flattery."
Charles Caleb Cotton
Here's another generally accepted maxim that I disagree with.
I would never photograph "Half Dome" like Ansel did, email it to him and proudly say: "Look what I did!"
When someone imitates one of my Harbinger images and sends it to me, I'm not flattered (however I'm never offended either because I know their intentions are kind).
So what is the sincerest form of flattery? For someone to say: "I love this image!" or loving it so much that they hang it in their home.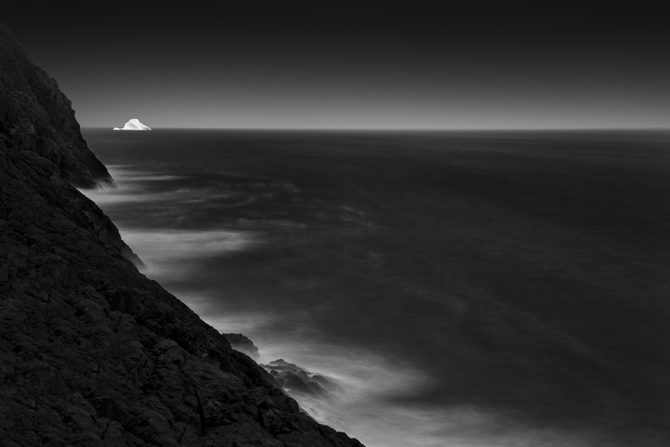 6. Ask someone what I should do with one of my images.
If I were to ask someone what should I do with this image, it would reveal something very important about me: that I don't have a Vision for this image.
Instead of asking for someone else's Vision, I should find my own.
Vision is what makes my image "mine."
It's what puts my mark on it.
It's what gives it spirit.
It's what makes it more than "just a photograph."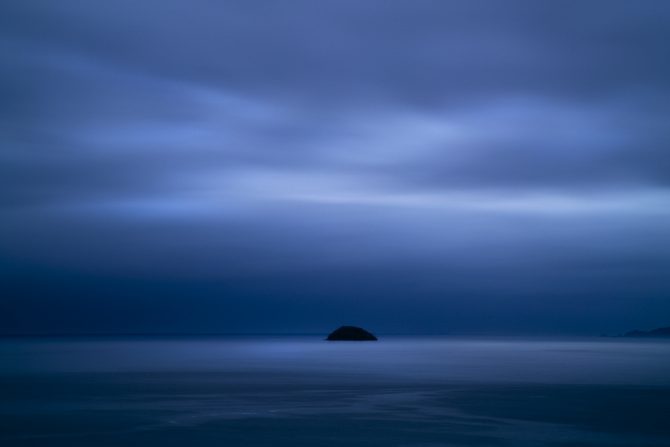 7. Shoot in color.
My eye has always been drawn to Black and White and I've never had an interest in color. Outside of family photos, I have only created two color images, one of them is above.
Ironically, I shoot all of my images in color and then convert them to black-and-white. When I'm converting them and can see the color and b&w image side-by-side, the color image rarely appeals to me.
But for some reason this one caught my eye, perhaps because it is so monochromatic?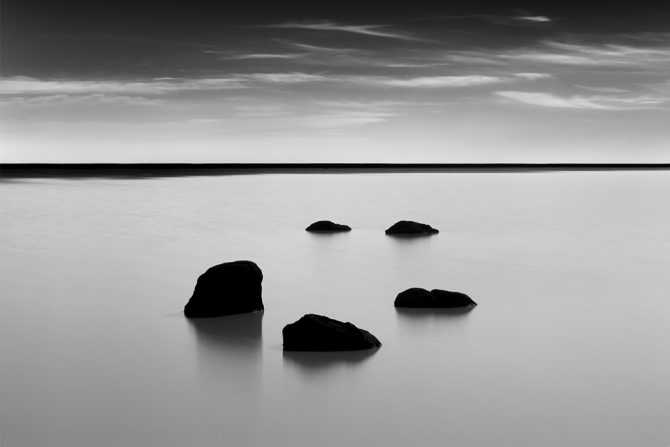 8. Seek out the iconic shots and photograph them.
When I go to a location, I never research the iconic shots or seek out the "must see" sites.
Why?
Because millions of others have photographed those locations a billion times before and I don't want to create another "me too" image.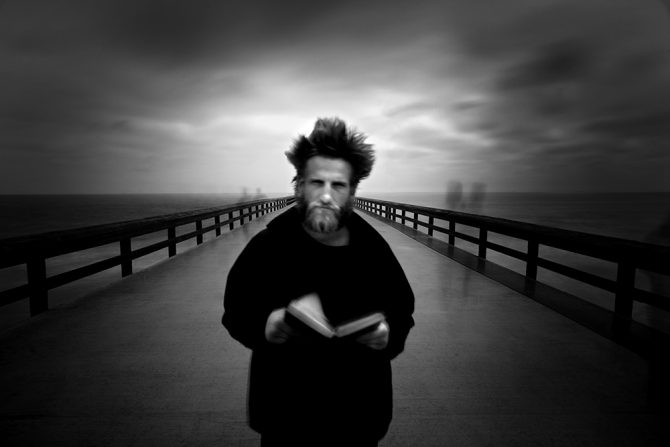 9. Offer limited editions.
I cannot imagine printing The Angel Gabriel image 25 times and then not being able to print it again because it was in an edition of 25.
I could never do that…I would never do that.
In my opinion there's only one reason to offer a limited edition: to artificially create scarcity to inflate the price. Fortunately for me, I do not pursue photography for money.
When I was trying to decide if I should offer limited editions, I asked the editor of LensWork, Brooks Jensen, what he thought. He asked me this question:
"Would you like to say that your work sold for thousands of dollars, or that your work was in thousands of homes?"
I knew what I wanted! I now number my prints, but in an open edition. If I'm lucky I'll print a million copies of The Angel Gabriel!
I've had people refuse to purchase an image when the discovered it was not in a limited edition. That told me they were more interested in an investment, than the image.
I want people to purchase my image because they love it, not because it's a "good investment."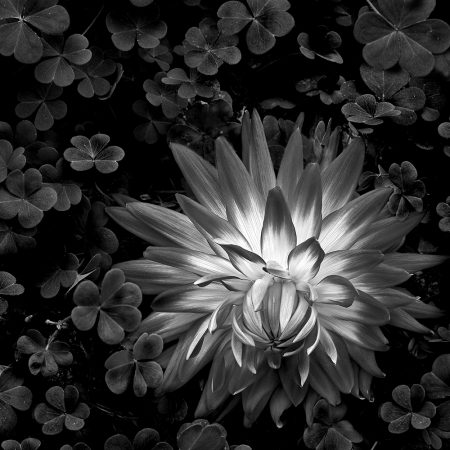 10. Attend a portfolio review.
When you get a portfolio review, you are getting the opinion of that person.
Opinion!
Embedded in that opinion is their Vision, their likes and dislikes, their prejudices, phobias and everything else. And the thing is, there are hundreds, no thousands, no millions of opinions out there!
Which one should you listen to?
Your own.
I don't believe in portfolio reviews because I value my opinion of my work more than a reviewers.
A story:
A young artist was exhibiting his work for the first time and a well-known critic was in attendance.
The critic says to the young man: "would you like to hear my opinion of your work?"
"Yes" says the young man.
"It's worthless" the critic says.
"I know" the artist replies, "but let's hear it anyway."
Experts may be expert in many things, but there's one thing they can never be expert in: your Vision.
I've received one portfolio review in my life and the only good thing that came of it was a commitment to find my own Vision.
And finding my Vision changed my photography…and my life.