The Intersection of Vision and Passion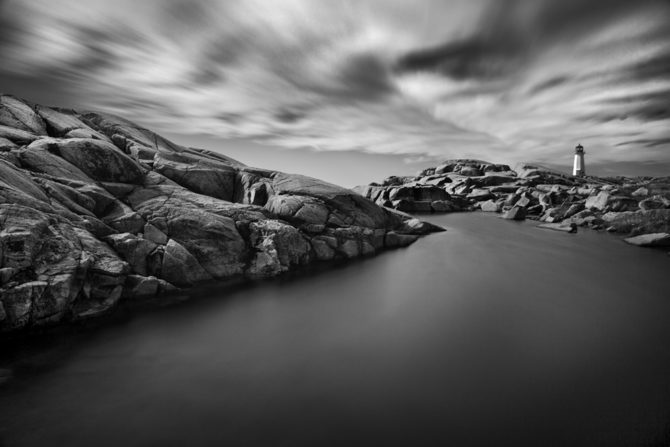 Peggy's Cove, Nova Scotia
---
I've just driven 7000 miles in 22 days and during that time traveled through 22 states and 2 Canadian Provinces. That's a lot of time in the car and it afforded a lot of thinking.
And what I've been thinking about is Passion and how it relates to Vision.
I noticed that as I drove through the incredibly beautiful autumn scenery of New England, I was not inspired to create. But when I came across water of any kind, and particularly along the coast, I found myself excited and creating.
Now one might initially attribute this to me being a black and white photographer in the middle of a color wonderland. But I don't think that's what it was. Fall colors can make for some amazing black and white images and I know that there are great images in those hills.
And yet here were thousands of photographers flocking to the area to shoot the beauty of the mountains and trees…and I'm only taking the occasional iPhone snapshot to send back to my family! Why?
My conclusion is that I just don't feel a Passion for mountains and trees, but I do for water.
But "why" do certain environs inspire me while others do not? I don't know and the "why" is not very important to me: what's important is that I recognize the source of my Passion and then do something about it.
In the past I've tried to force projects that I didn't have a Passion for: the projects languished, I had to force myself to work on them and I was not happy with the results. Not one of those projects were ever successful.
Never. Not one. Ever.
And so I've decided that with my limited time I will only focus on the places and things that excite me most, and for now that's water and the coast.
I've long understood the role of Vision in creating work that I love, but now I'm beginning to appreciate the role of Passion as being nearly as important.
With Vision I can create unique images. With Passion comes an excitement that drives me.
And while I might use each one individually to some success, I now realize that my best work is created at the intersection of Vision and Passion.
Cole