A Suggestion for Camera Clubs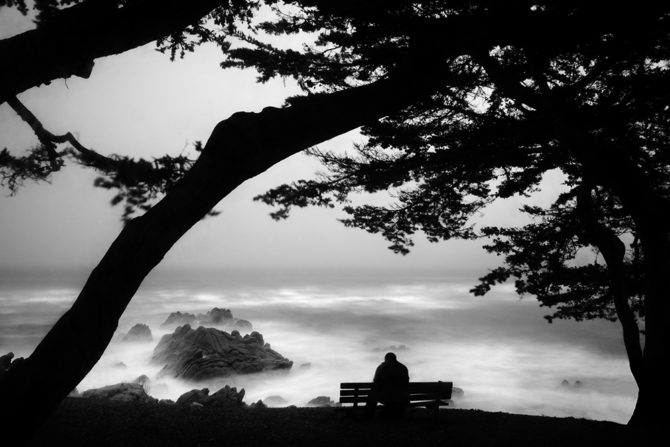 Lone Man No 30
When I speak to camera clubs, I've noticed that most of them have some sort of monthly competition and/or the critiquing of images. And if you've read my blog for very long, you know that I am not a fan of either.
Starting with my article "Art is Not a Competition" and ending with my "Why I Don't Critique Other People's Work" I've argued that neither competition or critiquing is conducive to developing one's own Vision.
Instead I've made the case that rather than learning about what others think of your work, you should decide how you feel about it. And that can only come from having a Vision and then honestly appraising how well you expressed that Vision.
Recently, after one of my presentation and during the Q&A session that followed, someone asked me this question (paraphrased):
"So based on what you've said tonight, I'm guessing you would not agree with our club's monthly competition and critiquing of images?"
Wow, what was I going to say? I had met with the club's executive committee earlier that evening and had learned about their many well organized activities, which included those monthly competitions and critiques. These were nice people, good people, sincere people who believed in what they were doing.
In a split second I had to decide how to answer that question: should I avoid giving offense by offering an artful "non-answer" or should I tell the truth?
I told the truth.
As I stood there expressing my opposition to competitions and critiques, the thought occurred that I should also offer an alternative. And so here is my suggestion to camera clubs as an alternative to competitions and photo critiques.
Once a year have each person bring an image that they really love and have them explain the story behind the image.
How they came to create it.

Did they have a Vision for that image, and if so, when did it emerge?

Have them talk about their creative process.

Have them explain where they feel that they hit or missed the mark.

Have them tell the group why they love this image (this is the most important item!)
And then let the audience ask questions and make supportive comments. Instruct the audience not to discuss the technical aspects of the image or ask technical questions and most importantly, refrain from giving advice or explaining how they themselves would have created this image.
In a sense this would be a "show and tell" that focuses on what the person intended and how they feel about their work, rather than what others think or would have done.
Initially some may find this approach challenging, because they may not feel that they have a Vision, while others may want to ask technical questions and offer suggestions. But with a good moderator and some practice, I think that it would be beneficial to focus on the creator and their Vision.
If you think this idea has merit, please suggest it to your club!
Cole