Impressions
<![if !vml]>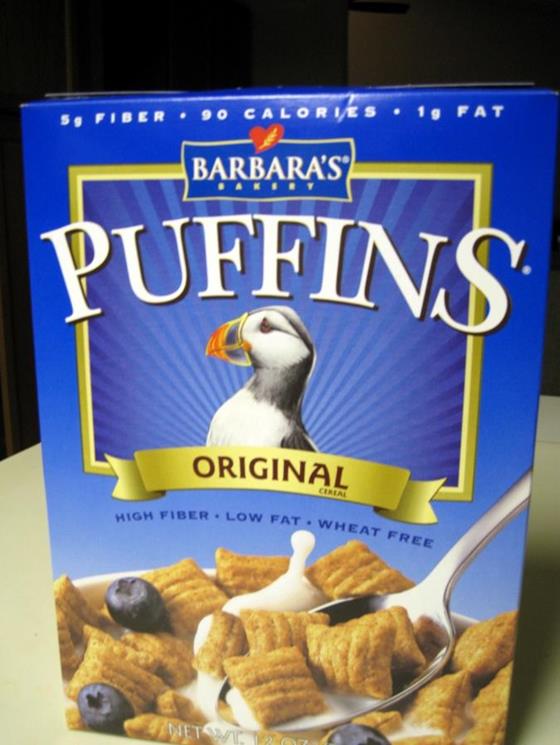 <![endif]>
Puffins
There is no truth to the rumor that they use real Puffins to make Puffins Cereal! But Puffin Soup is a delicacy on the islands.
Puffins are found on the northern most part of the country with the largest concentration on Mykines Island (pronounced MEE-chin -ness).
<![if !vml]>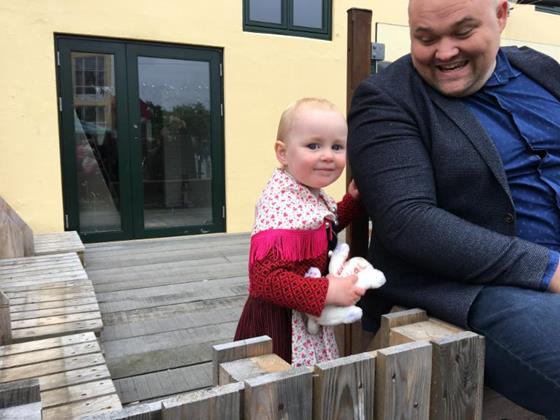 <![endif]>
The People
The people are small town friendly, but first impressions can be deceiving. If you're walking down the street, even in a small village, a stranger may not say hello or make eye contact.
I always say "howdy" to people and they would quickly glance up, say "hello" and quickly glance back down again. That perplexed me and so then I tried an experiment: after saying "howdy" and getting a "hello" back, I'd ask "how are you?"
What a transformation would then take place! The people would make eye contact, their face would brighten and suddenly we were friends.
True story: one day I was out shooting in a remote area. I drove to the end of a road and was walking out further when I saw two people walking towards me. As we got closer, I said "howdy!" and one if the people responded "Cole?"
<![if !vml]>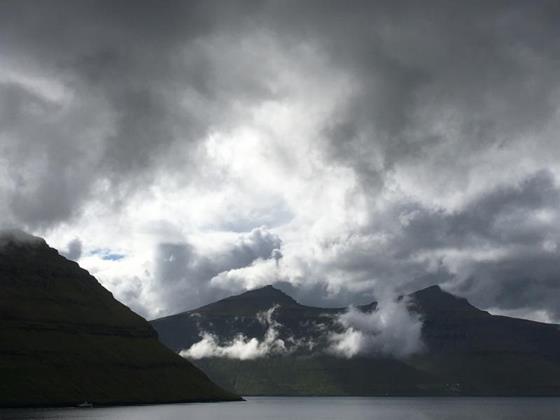 <![endif]>
The Weather
I visited during their summer and I don't think the temperature ever broke 55 degrees. I loved those cool temps, but they acted as though a heat wave was upon them! They were in the ocean swimming and everywhere I'd go, I'd see people sunning themselves.
I'm from Colorado where we have about 300 sunny days a year. I'm told they have about 300 overcast days a year. I expected their winters to be brutally cold and snowed, but I'm told that they're actually quite moderate being surrounded by water.
<![if !vml]>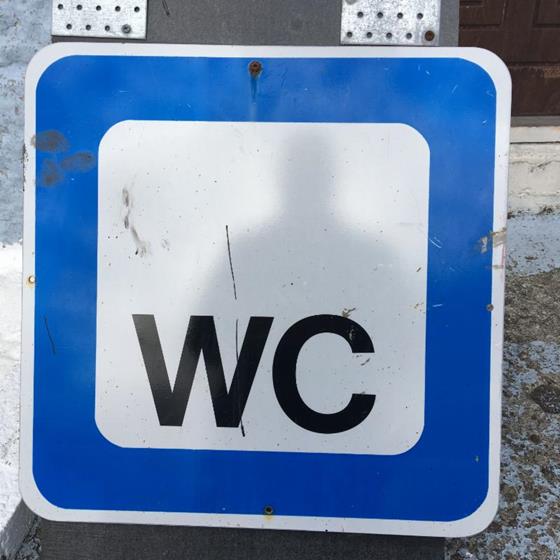 <![endif]>
WC
I have never seen a country with such nice and clean water closets! No matter where you went, even in the smallest village, you'd find a public restroom that was immaculately kept.
<![if !vml]>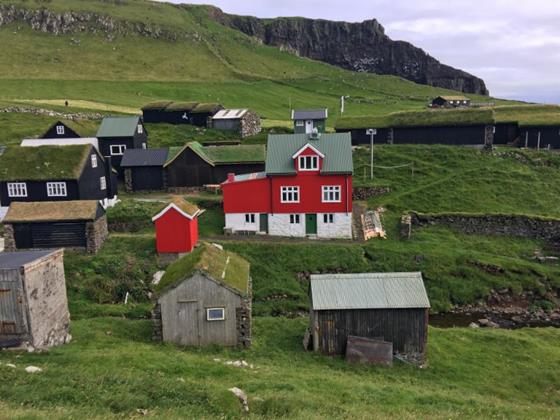 <![endif]>
Painted Houses
Another thing the Faroese were fanatic about is keeping their houses painted. Almost every house looked as though it had a fresh coat of paint. And guess what one of their favorite color schemes is? A black house with white trim.
<![if !vml]>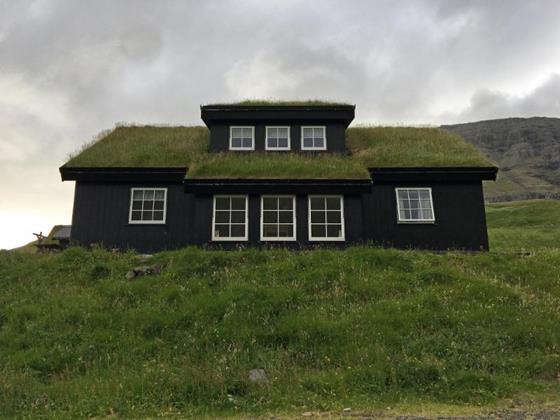 <![endif]>
Sod Roofs
Many of the houses had a sod roof. Even in the middle of the city they were quite common. I even saw a man cutting the grass on his roof with a weed wacker! In one small village I saw a sod roof with weeds on it and wondered if his HOA sent him a nasty letter?
<![if !vml]>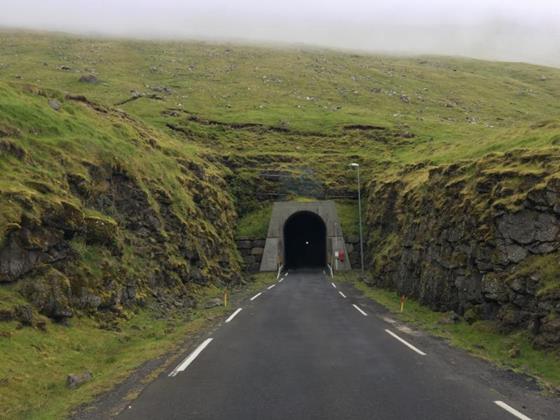 <![endif]>
Roads and Tunnels
The Faroe Islands have great roads and tunnels. The tunnels might go through a mountain or deep under the sea. They're building a new tunnel right now that will connect two islands and save over a hour of drive time.
It is very odd to go into a tunnel that is several miles long, to go downhill until you reach the bottom, and to know that you are several hundred feet below the ocean floor.
Another thing you see everywhere is roundabouts. I was told that they only have two traffic signals on the islands, both in Torshavn. The new tunnel they are building will have a roundabout beneath the ocean floor.
The new tunnels are very wide and can easily fit two vehicles with room to pull out. But the older tunnels, like the one above, are very narrow and not very tall. They can fit only one car at a time and so about every 100 yards there are turnouts and whoever gets to the turnout first, must pull out.
<![if !vml]>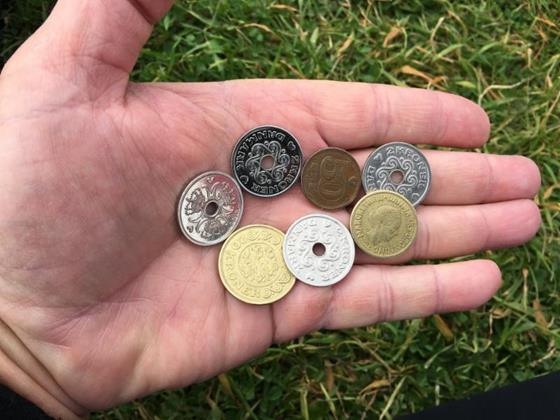 <![endif]>
Cost of Living
As a tourist, I found prices to be very high, but not nearly as high as Iceland. Gas, food and lodging were all expensive...and made even more expensive by high taxes.
Their paper money is the Danish Krone or the Faroese Krona, but they use Danish coins.
<![if !vml]>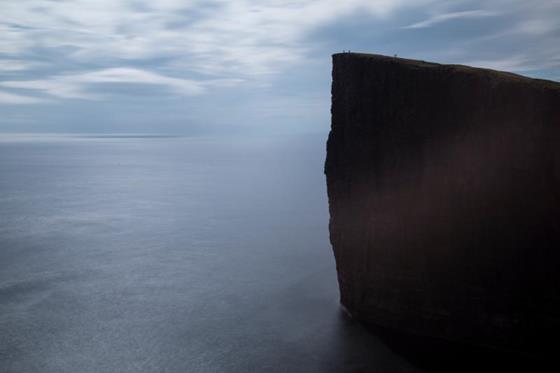 <![endif]>
Safety
What would you think if you were to see a car running while the owner went into the grocery store to shop? Or you went to a restaurant and saw baby buggies lined up outside, with babies in them? The Faroese do that because it is so safe there.
I was driving through a village when I saw a 4 year old walking down the street by himself, I panicked and yelled "where are his parents?" And then I remembered, I was in the Faroe Islands.
My landlord for the month was a police supervisor in a neighboring village. He said there is virtually no crime on the islands.
And there is no threat from dangerous or wild animals. No snakes, no rabies, no mountain lions, no bears, nothing but very large rabbits and sheep
The most dangerous thing in the Faroe Islands are the cliffs They are massively high and every year some poor tourist goes over. The image above is of my daughter-in-law Erica on the left and my son Cody with their daughter Margot in his backpack.
<![if !vml]>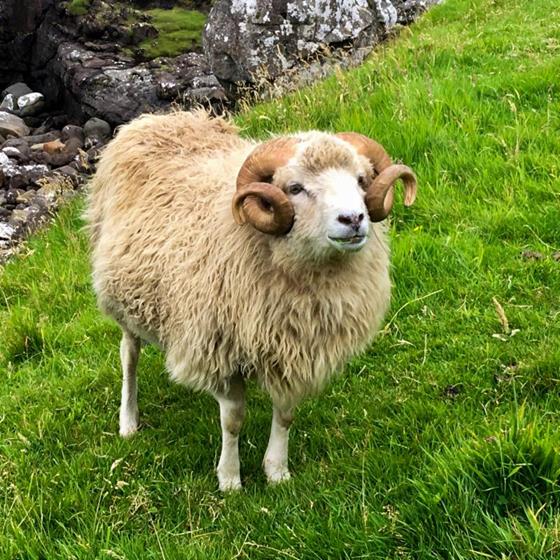 <![endif]>
Sheep
There are sheep everywhere. Literally everywhere. On the roads and on the side of the roads. And if you hit one, you must compensate the owner.
I've never been around sheep much, but they grew on me. They would let you get pretty close to them but would never look up, but I did notice that they always kept one eye on me.
<![if !vml]>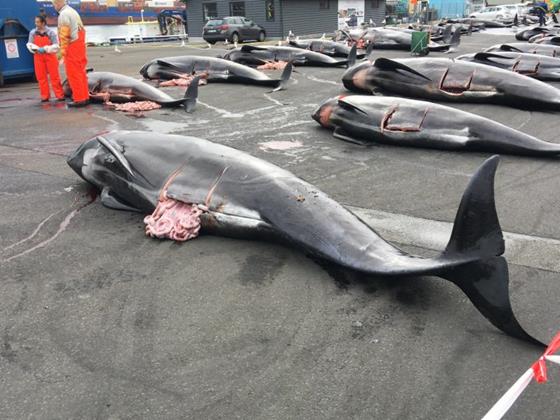 <![endif]>
Whaling
The Faroese whale. I did not know this until Kristian my landlord told me to go down to the harbor to witness it. I found it disturbing.
However I try very hard not to judge other people's customs by my standards and traditions.
But I still found it disturbing.
<![if !vml]>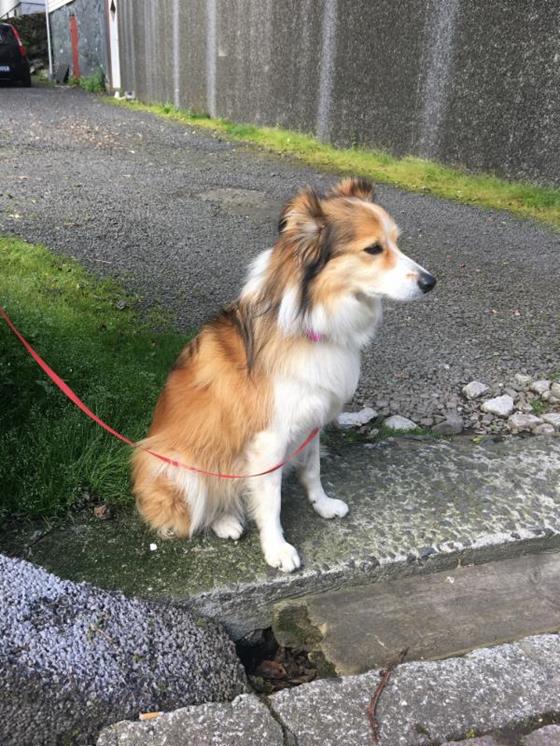 <![endif]>
Dogs
I'm an animal lover and dogs are my favorite. But I found the dogs of the Faroe Islands to be unfriendly. They were not mean, but they were not friendly. I'd approach a dog and talk to them but I wouldn't get a look, a wag or any response. I wondered how these dogs were raised that they were so indifferent to people.
I did meet one very nice dog in a tiny village. He wanted me to throw rocks, which he would dutifully retrieve and then wait for me to throw it again.
<![if !vml]>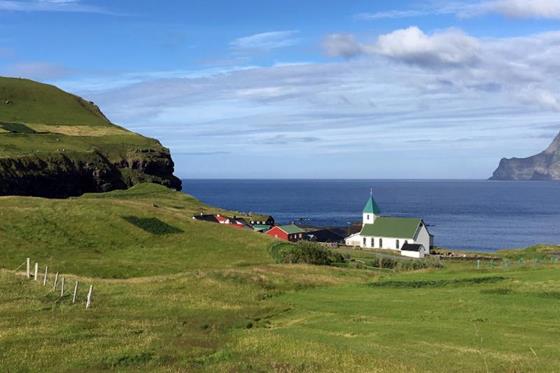 <![endif]>
Churches and Graveyards
At the center of every village is a cute little church. Their graveyards are very old, I found several headstones dating back to the 1500's.
<![if !vml]>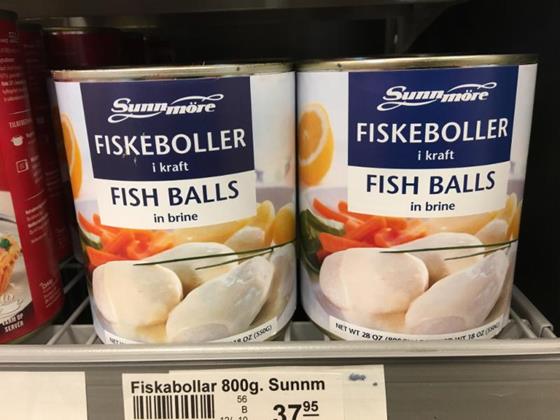 <![endif]>
Food
I always worry about eating in foreign countries because my stomach has a very narrow tolerance for non-familiar foods. It turns out that the Faroe Islands did have some unusual foods (Puffin soup, whale blubber, things with eggs on them, fish balls...) but that wasn't the real challenge.
The real challenge was finding a place to eat. For the most part, restaurants exist only in a few cities/towns. And because I was out shooting so late, they were closed by the time I returned to Torshavn.
So what did I do? I ate at gas stations a lot. It's not quite as bad as it sounds, over there a gas station is a mini-grocery mart and you can find basic foods there including fruit and vegetables. They also have a wide assortment of hot dogs.
Their hot dogs are a bit odd. Imagine a bun that looks like a round roll with a hole drilled in it. They ask you what sauces you want (there are about 10) and then they squirt them into the hole and insert a hot dog that is twice as long as the bun!
There was this one pizza place that was in the middle of nowhere and open late, I ate there a lot. There was also a Chinese restaurant that was pretty good in Torshavn.
But the real culinary treat was eating at the only American fast food restaurant on the island: Burger King! It was familiar and I could get ice in my drink. Like many European countries, ice is not the norm and if you ask for "extra ice" you might get four ice cubes.
Other odd things about the food there: they love salt and advertise it: Lay's Salted. They are also crazy about black liquorice and even salted liquorice.
It was interesting to see that things were not supersized there: candy bars, chips, soda were all smallish in size, like we used to have in the 60's.
One of my favorite foods was their danish, it's unlike anything I've had here in the US. It is very light and delicious! And this danish can be purchased at a gas station.
<![if !vml]>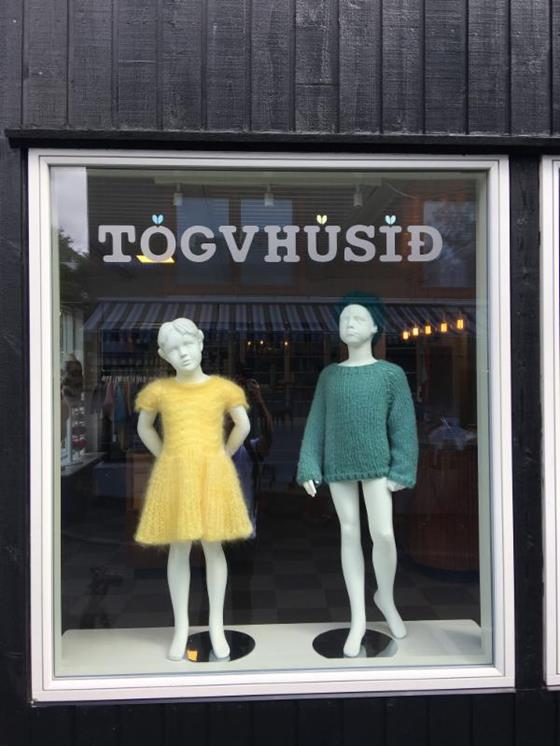 <![endif]>
Wool
Because there are so many sheep there, there is also a lot of wool. They are very proud of their soft wool and you can find almost anything made of wool. It looks like that kid on the right needs some wool underwear...
<![if !vml]>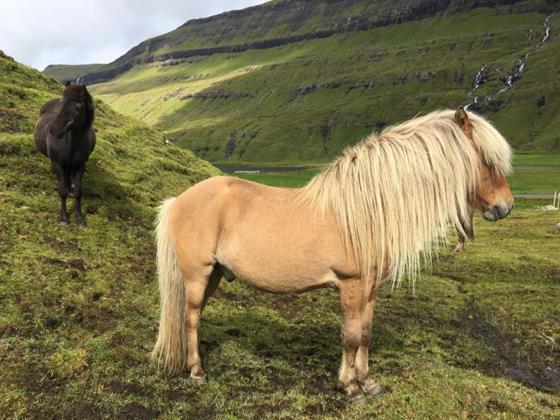 <![endif]>
Horses
They have amazing horses, similar to those found in Iceland. I call them Beatle horses.
They are short in stature and very friendly, the opposite of the dogs. I'd bring apples along, cut them up and offer them some. They were not the least bit shy or standoffish.
<![if !vml]>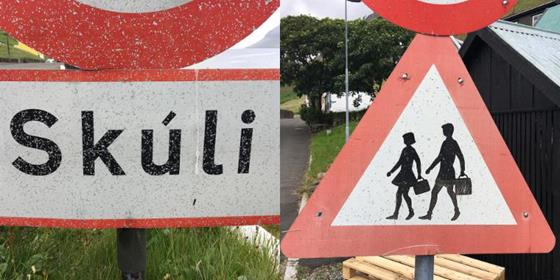 <![endif]>
Road Signs
There were a lot of unusual road signs, and while some were easy to understand, others were perplexing.
For example, it's clear that the sign on the left warns of a school zone. But what does the one on the right mean? Beware of business men and women carrying briefcases?
<![if !vml]>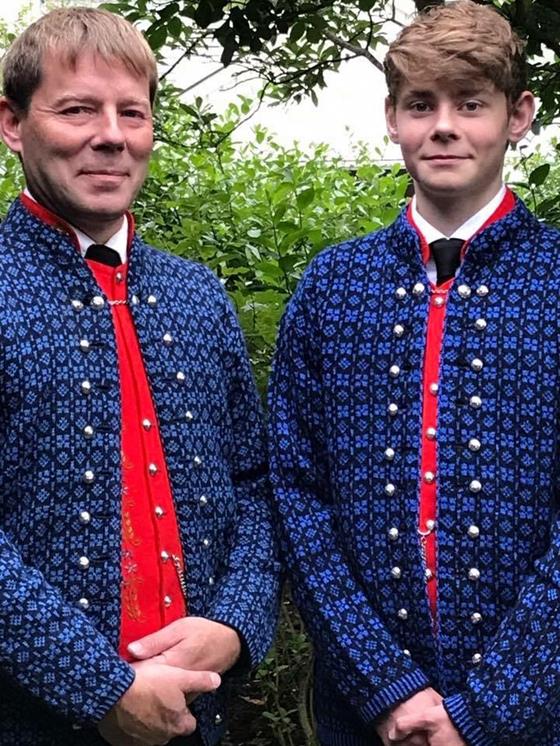 <![endif]>
Traditional Dress
I was fortunate to schedule my visit during the "National Holiday" or St. Olav's day which commemorates the death of the Norwegian King, Olaf the Holy, who fell in battle on July 29th, 1030.
During this holiday everyone dresses in traditional clothing. This is Kristian my landlord and his son. These clothes are handmade from wool and knitted by Kristian's mother.
<![if !vml]>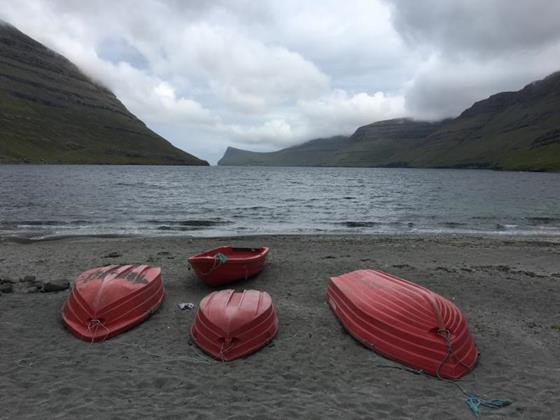 <![endif]>
Small Villages and Extreme Isolation
Most villages are very small, perhaps 50-100 people, and they are very isolated...but in a good way. The people are strong and independent.
Many villages have been connected by tunnels in recent years, but some still must depend on ferries to reach a store, services or medical care.
I thought it unusual that in these very small villages, and with all of this open land, the houses were built in a small cluster with only a few feet in-between each house.